Women's housing designed by female team: GBL Architects
by brittney_cutler_2 | October 12, 2021 12:30 pm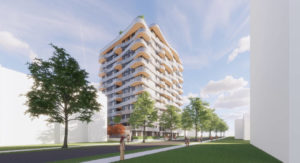 Designed by GBL Architects, a 135-unit mixed income affordable housing development, focuses on target client groups including senior women, single mothers, and workforce housing for women-led families where leases are signed by women in Vancouver.
Totaling 8640 m2 (93,000 sf), 47 units will be family-friendly, alongside 50 studios, 38 one-bedrooms, 35 two-bedrooms and 12 three-bedroom units. The project will provide affordable rental housing in a 13-storey tower, replacing a smaller scale, aging building.
The current neighborhood is comprised of low- to medium- rise residential buildings, however several taller towers stand nearby. GBL's proposal is similar in scale to a tower across the street, and within the range of nearby towers.
Amenity space is a priority to the team, and will be maximized to allow for flexible multi-use spaces for residences. Outdoor patios, healing gardens, and urban agriculture will improve liability for residents and enhance the green streetscape.
The building design allows for a setback at grade, which can improve the street with planting, street furniture, and patios for ground level units. The building will meet a high standard of sustainability requirements, which will be considered throughout the design process.
Endnotes:
[Image]: https://www.constructioncanada.net/wp-content/uploads/2021/10/BC_WomensHousing.jpg
Source URL: https://www.constructioncanada.net/womens-housing-designed-by-female-team-gbl-architects/
---