Winnipeg school wins Greenest School award
by nithya_caleb | November 13, 2017 10:59 am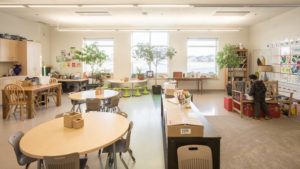 Amber Trails Community School[2] has won the annual Canada Green Building Council's[3] (CaGBC's) Greenest School in Canada competition. Located in the heart of a new neighbourhood in North Winnipeg, Amber Trails is a 7246-m2 (78,000-sf) building that acts not just as a school, but also as an open and accessible hub within the community.
Designed by Prairie Architects Inc., the school was certified as Platinum under the Leadership in Energy and Environmental Design[4] (LEED) program in 2016. Earlier this year, it won CaGBC's Excellence in Green Building for New Construction (NC) award.
The CaGBC Greenest School jury, comprising industry experts from across the country, chose Amber Trails for both its environmental curriculum and its dedication to maintaining a truly green building, including an Energy Star score of 92 and overall energy savings of 68 per cent. They appreciated the school's eco-positive vision that highlights community engagement, as well as the Outdoor Learning Environment, which integrates this space with the surrounding public trails and encourages teachers to take their instruction outside. Additionally, the jury appreciated that the school has adopted a 'balanced' school day, providing students more time to play outside.
The school also has a student-run organic vegetable farm—developed last summer—enabling children in the farming club to work together with a co-ordinator to cultivate more than 20 varieties of vegetables, which are then sold to staff and community members.
Amber Trails is working on a timeline-based teaching guideline connecting the climatic seasons with the school's vegetable farm to support land-based education and promote a deeper sense of place, and an awareness of human impacts and how they acknowledge and connect with natural cycles.
Seven Oaks School Division and the Manitoba Public Schools Finance Board decided to eliminate natural gas from the school to reduce greenhouse gas (GHG) emissions and future mechanical maintenance costs. With a combination of geothermal heating and cooling, radiant floor heating, low-flow fixtures and other initiatives, Amber Trails achieved more than 65 per cent energy savings and a lower carbon footprint.
Each classroom has three large windows and a partially glazed wall separating the rooms from the hallway, allowing for fresh air, outdoor views, and natural light to come into the classrooms. This has had a positive impact on the mental and physical well-being of both students and teachers.
Amber Trails has achieved more than 50 per cent reduction in water use. The school division reported they are saving approximately $7224 per year on water and it was found the average water consumption for Amber Trails is 1.21 m3 (42.7 cf) per student, compared to 3.2 m3 (113 cf) per student at a similar school.
"Amber Trails is an excellent example of a school that not only teaches students about sustainability and innovation, but also puts it into practice. By weaving sustainability into the culture and curriculum of their LEED Platinum certified school, Amber Trails is teaching its students the most important lessons about the our natural environment, while inspiring them to be next generation leaders," said Thomas Mueller, CEO of CaGBC.
As the 2017 Greenest School in Canada winner, Amber Trails receives a $2000 cash award to use on a new or ongoing sustainability project. The runners up of the competition were:
Dewdney Elementary School (Dewdney, B.C.); and
Windermere Secondary School in Vancouver.
Launched in 2014, the Greenest School in Canada competition seeks to showcase kindergarten to Grade 12 schools across the country that truly exemplify how sustainability can be woven into the infrastructure, culture, and curriculum of a school. The competition is part of a series of initiatives from CaGBC and the Canada Coalition for Green Schools.
Endnotes:
[Image]: https://www.constructioncanada.net/wp-content/uploads/2017/11/Amber1.jpg
Amber Trails Community School: https://www.7oaks.org/school/ambertrails/Pages/default.aspx
Canada Green Building Council's: https://www.cagbc.org/
Leadership in Energy and Environmental Design: https://www.cagbc.org/CAGBC/LEED/Why_LEED/CAGBC/Programs/LEED/_LEED.aspx?hkey=01b3d086-d0a4-42cf-9e61-7830d801c019
Source URL: https://www.constructioncanada.net/winnipeg-school-wins-greenest-school-award/
---