Wind simulation facility gets $3.88M to study climate impact on infrastructure
by arslan_ahmed | August 23, 2022 4:35 pm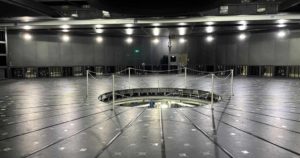 The Wind Engineering, Energy, and Environment (WindEEE) Research Facility received $3,887,057 federal grant aimed at helping advance the organization's goal to enhance climate resiliency and sustainability of the built environment and strengthen the systems for climate and wind engineering education.
Located at Western University campus in London, Ontario, WindEEE Dome houses a hexagonal wind chamber with 106 real-time controlled fans and hundreds of flow modifiers, allowing researchers to modify wind patterns and directions during a simulation. This facility's wind dome can simulate large scale weather incidents such as tornadoes and hurricanes to test and analyze the infrastructural impact of weather and climate changes.
WindEEE also has two other facilities, the Boundary Layer Wind Tunnel Laboratory, and "Three Little Pigs". The former is a lab designed to assess the structural safety of world's buildings and bridges, while the latter serves to evaluate the impact of varying strengths of wind loads on houses.
This contribution from the Government of Canada is being made through the Canada Foundation for Innovation's (CFI) Major Science Initiative (MSI) Fund, which is designed to support the ongoing operation and maintenance needs of research facilities of national importance.
Recognized as a national laboratory, open to all Canadian researchers, WindEEE's sophisticated operations have demanding energy use and require highly skilled technicians and engineers even at an operational level.
Endnotes:
[Image]: https://www.constructioncanada.net/wp-content/uploads/2022/08/AA_WindEEEDome.jpg
Source URL: https://www.constructioncanada.net/wind-simulation-facility-gets-3-88m-to-study-climate-impact-on-infrastructure/
---