Who's who of Holt Renfrew's $400-million renovation
by nithya_caleb | July 4, 2018 3:20 pm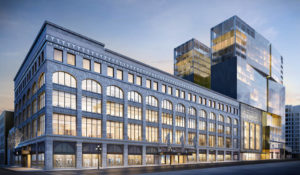 Holt, Renfrew & Co.[2] (Holt Renfrew) is investing more than $400 million to renovate and expand stores across the country as it builds its luxury apparel and beauty brand.
The company is aiming to transform how customers experience luxury retail, with a number of updates, expansions, and renovations at its network of stores.
"As the Canadian luxury retail landscape evolves, so too is Holt Renfrew. These investments will help us to enhance the first-rate, luxury shopping experience our customers expect from Holt Renfrew," said Mario Grauso, president of Holt Renfrew.
Designed by Janson Goldstein[3], the two-year, 3716-m2 (40,000-sf) expansion of Holt Renfrew Vancouver is nearly complete. The store now includes a renovated women's footwear area that has tripled in size and an expanded beauty hall, personal shopping, and men's department.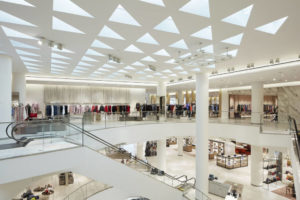 In Montréal, the phased enhancements and renovations to Holt Renfrew Ogilvy will expand the store to more than 23226-m2 (250,000-sf), making it the country's largest Holt Renfrew. Designed by interior designer Jeffrey Hutchison & Associates[5], with support from Montréal-based architectural firm Lemay[6], the store is adding an expanded beauty hall, leather goods shop, and an enhanced women's footwear department. Additionally, the store will feature a new façade led by global architecture and design firm Gensler[7] and a café designed by Paris-based Laplace.
Holt Renfrew's Toronto flagship store will be updated with an expanded and newly renovated women's footwear department, opening as early as winter 2018. Designed by Alex Cochrane Architects[8], a new café is slated to open at the location in late 2019. The renovation is designed by Kramer Design Group[9] and Gensler.
Also in Toronto, Holt Renfrew Yorkdale will grow by 929 m2 (10,000 sf) to 11984 m2 (129,000 sf). Customers will have the opportunity to enjoy an expanded personal shopping service. The interior of this store has been designed by Kramer Design Group in partnership with Gensler, which is responsible for the store's façade, expansion, and renovation.
Endnotes:
[Image]: https://www.constructioncanada.net/wp-content/uploads/2018/07/1.jpeg
Holt, Renfrew & Co.: http://www.holtrenfrew.com
Janson Goldstein: http://www.jansongoldstein.com/
[Image]: https://www.constructioncanada.net/wp-content/uploads/2018/07/holt.jpeg
Jeffrey Hutchison & Associates: http://jeffreyhutchison.com/
Lemay: https://lemay.com/en
Gensler: https://www.gensler.com/
Alex Cochrane Architects: http://www.alexcochrane.com/
Kramer Design Group: http://kramerdesigngroup.com/
Source URL: https://www.constructioncanada.net/whos-who-of-holt-renfrews-400-million-renovation/
---