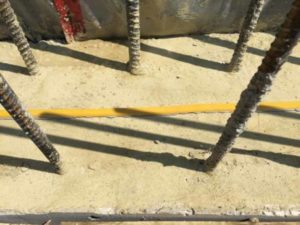 Proper waterproofing of construction joints plays a vital role in fortifying below-grade concrete structures. Construction joints are stopping places—caused by non-continuous concrete pour—and a plane of weakness. Hence, they represent the most vulnerable part of the structure from a waterproofing perspective.
Without an effective joint waterproofing system known as a waterstop, it is not a matter of if the joint will leak, but rather, when it will leak. Leakage or dampness not only impacts the serviceability of the structure, but also causes major deterioration such as corrosion of reinforcing steel in concrete. Water penetration is a global problem as it reduces the service life of concrete structures. It is responsible for more than 80 per cent of damage to reinforced concrete facilities, thereby continuing to rack up the repair costs for owners and developers.
One of the technologies used for waterproofing joints is a polyvinyl chloride (PVC) waterstop, also known as the traditional "dumbbell" due to its shape. These plastic sheets are placed across the joint before the concrete is poured to create a physical barrier for blocking water penetration. This type of waterstop relies on the ribs in the design to prevent water from passing through the joint. The PVC waterstop is great for blocking water, and is relatively inexpensive, but has limitations.
This waterproofing article along with two others appears in our newest e-book "How Best to Waterproof Concrete," a free, downloadable resource. To get your copy in either pdf or digital edition, visit www.constructioncanada.net/ebook/kryton-how-best-to-waterproof-concrete-e-book.