VIA Rail station in Winnipeg to undergo $25M+ renovation
by arslan_ahmed | August 30, 2023 1:11 pm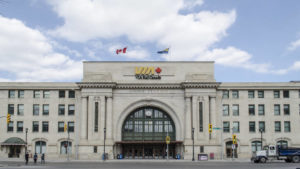 VIA Rail has invested more than $25 million in the renovation of Winnipeg Union Station, a cornerstone of its western operations, allowing the company to continue providing a safe, comfortable, accessible, and sustainable user experience.
Since 2020, VIA Rail has, among other improvements, upgraded interior passenger platforms, created a more accessible experience with the elevators and escalators updates, and is undergoing an exterior passenger platform replacement. Once completed at the end of this year, it will be the first fully accessible platform on the company's long-distance and regional routes.
All renovations to the station and train shed are being done within the guidelines of Parks Canada to respect the heritage characteristics of the 1911 building. The Winnipeg Station also achieved Leadership in Energy and Environmental Design (LEED) gold certification in 2022, making it the second station in VIA Rail's network to receive this Canada Green Building Council (CGBA) credential.
Across its network, VIA Rail owns heritage stations which have played an integral role in Canada's rail history. Between 2020 and 2025, VIA Rail will have invested over $80M for the renovation of four of its heritage stations: Winnipeg Union Station, Vancouver Pacific Station, Halifax Station, and Gare du Palais in Quebec City.
"Union Station is a beautiful historical site right in the heart of our city's downtown. With this investment of over $25 million, VIA Rail is making good on its commitment to regional connectivity and continues to offer riders the safe, comfortable, accessible trip they've come to expect," says the Honourable Dan Vandal, minister of Northern Affairs, minister responsible for Prairies economic development Canada, minister responsible for the Canadian Northern economic development agency, and Member of Parliament for Saint Boniface-Saint Vital.
Endnotes:
[Image]: https://www.constructioncanada.net/wp-content/uploads/2023/08/Union_Station_Winnipeg_-_Main_St_entrance-1.jpg
Source URL: https://www.constructioncanada.net/via-rails-train-station-in-winnipeg-to-undergo-25m-renovation/
---