Using fire-rated glazing to solve design challenges in existing buildings
December 15, 2018
by Jeff Razwick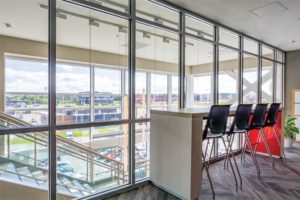 Imagine walking through a building with dark corridors, stairwells with light-restrictive concrete blocks, and doors with 64,516-mm2 (100-si) vision lites. Now imagine passing through the same facility five years later. Light pours into its hallways through expansive windows. The building's main stairwell is illuminated by a transparent curtain wall stretching three stories high. Full-lite glass doors provide clear lines of sight into and out of spaces. The benefits of the building's renovation are immediate.
Bright, open interiors providing occupants with access to daylight and views are more enjoyable and inviting to spend time in than dark, closed-off areas. More importantly, they support occupant well-being. Studies show they can improve student performance, expedite patient recovery, and enhance worker productivity (For more information, consult California Energy Commission's (CEC's) 2003 technical report, "Windows and Offices: A Study of Office Worker Performance and Indoor Performance[2]," prepared by Heschong Mahone Group. Also read the September 2003 report, "The Benefits of Daylight Through Windows[3]," by Peter Boyce, Claudia Hunter, and Owen Howlett). Buildings with more natural daylight can also help reduce artificial lighting loads and support green building goals. Given these benefits, it is apparent why many design professionals work to maximize light transfer and visual connectivity during retrofits and renovations.
One potential roadblock building teams face during this process is how to create light, spacious interiors in areas with fire- and life-safety requirements. Many existing structures rely on traditional fire-rated building materials such as concrete and gypsum to provide fire protection. While effective, their dense, opaque form restricts light transfer and visibility. Finding a viable alternative to open up these solid walls while maintaining code compliance is no easy task.
Stantec Architecture faced this challenge when one of their clients relocated its accounting firm headquarters. As the firm prepared to move into the new space, they found "its lease was saddled with a very dark, almost unusable area on their most important floor," said Ken Novak, NCIDQ, associate at Stantec Architecture.
The second floor, which was designated as a gathering place and the "town square" for the company, had no access to daylight. It was essentially a long, dark corridor. To allow light to fill the space and provide views to the lobby and street below, the firm desired to open up a gypsum-covered, fire-rated wall. As Novak explained, introducing daylight was "problematic due to the codes regarding separation of the lobby from the tenant space."
Many available fire-rated materials can satisfy this code requirement, but relatively few can do so without restricting daylight and visibility. The architects had all but "given up on the idea of daylight flooding the space," until they found their solution with fire-rated glazing.
The clear solution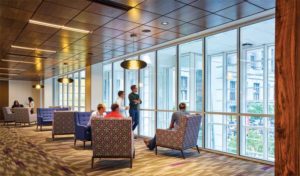 Fire-rated glass can meet the same performance criteria as its opaque fire-rated counterparts, with the added benefit of providing transparency. Some of the available products can provide a high degree of clarity, have minimal surface imperfections, carry fire ratings up to 120 minutes, and offer the highest level of impact safety (Consumer Product Safety Commission [CPSC] 16 Code of Federal Regulations [CFR] 1201, Safety Standard for Architectural Glazing Materials).
Further expanding use, if a project team needs a product providing fire resistance (meaning it must defend against flames, smoke, and heat) there are a growing number of options available. One of the most popular solutions is a transparent fire-rated glass wall panel. It can serve as a barrier to heat and pass the test standards for solid walls. In Canada, this test is Underwriters Laboratories of Canada (CAN/ULC) S101, Fire Endurance Test of Building Construction Materials. The product typically achieves its high level of performance by using intumescent interlayers that turn to foam when exposed to heat. Some products go a step beyond and use nearly colourless, wireless, low-iron float glass and clear intumescent interlayers. Such glass can provide almost the same level of visual clarity and colour as ordinary float glass, while still meeting stringent fire- and life-safety criteria.
When these fire-resistive glass solutions are combined with compatible fire-resistive frames, and installed as part of a tested and approved system, building teams can create large expanses of glass in areas that would otherwise require opaque fire-rated materials to meet code. This was the project team's approach.
To provide the desired visibility and daylight for the client, the project team replaced a 25-m (84-ft) long drywall partition with approximately 76 m2 (821 sf) of two-hour fire-resistive curtain wall frames and glass. Changing an opaque wall into a clear one resulted in a welcoming, light-filled space that is "very popular and one of the showstoppers in the building," said Novak.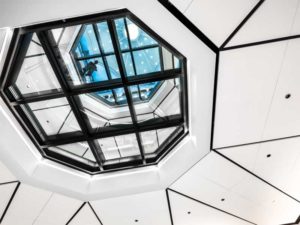 Breaking down design barriers
While the project's architectural team used a fire-rated glass curtain wall system to resolve their design challenge, it is just one of many solutions. Today's product options range from fire-rated glass doors and lites to more robust fire-rated glass wall panels and floor systems. With proper planning, there are numerous ways building teams can use these advanced systems to break down design barriers in retrofits and renovations while maintaining code compliance. Here are some common challenges today's fire-rated glazing products can solve.
Challenge: Create large and open interiors while providing compartmentation
The subdivision of buildings into smaller compartments via fire-rated materials, known as compartmentation, is a critical safeguard in building design. It helps slow or stop the spread of fire, providing occupants with time to evacuate the building and firefighters time to arrive and extinguish the fire.
While an essential part of well-balanced fire- and life-safety plans, the act of subdividing spaces is at odds with creating large, shared spaces. Fire-rated glass has the ability to resolve this design challenge in building retrofits and renovations by providing transparent compartmentation.
See-through in nature and able to defend against the spread of fire, fire-rated glass can help create an open, airy feel while reducing air volumes. Products receiving classification as non-directional fire-resistance-rated construction, meaning they maintain the same fire-rating from both sides, further push these benefits. They are not restricted to 25 per cent of the total wall area (as is typically the case with fire-protective glass), and are suitable where building codes require an assembly designated "fire-resistance-rated" to enclose a space or separate adjacent spaces. Example spaces include stairwells, egress corridors, or other fire or smoke barriers dividing construction.
In application, building teams can use fire-resistance-rated glazing to subdivide large, frequently traversed areas while maintaining an open feel. For instance, during a retrofit, building teams can use a fire-rated glass curtain wall system to visually tie together two otherwise separate spaces. Expansive sections of fire-rated glazing within a stairwell can extend line of sight for occupants while retaining fire separations. Similarly, fire-rated glazing within a structure's atrium can improve transparency while maintaining compartmentation.
Challenge: Support green building goals while providing fire safety
In Canada, a growing number of retrofits and renovations seek to reduce energy consumption and greenhouse gas (GHG) emissions. This has been an area of focus since the Canada Green Building Council (CaGBC) published "A Roadmap for Retrofits in Canada" in 2017. The report provides provincial-specific pathways for reducing GHG emissions from large buildings, and calls for a mix of actions, including deep retrofits of buildings over 35 years old.
While there are many factors to consider when reworking buildings to support green building goals and improve performance levels, from HVAC changes to system upgrades, glazing is often a part of the conversation. Large glazed areas allow for more light transfer within buildings and can increase views to outdoor environments. With proper design and careful material selection, they can also help to adequately illuminate interiors without imposing additional cooling energy loads. Due to advances in fire-rated glazing, these daylighting tactics no longer need to fall by the wayside in building areas where it is necessary to comply with stringent fire- and life-safety standards.
As discussed previously, fire-resistant-rated glass systems are tested to the same standards as walls, and can therefore exceed 25 per cent of the total aggregate wall area. They can extend from floor-to-floor or wall-to-wall, and even span multiple stories. When integrated in well-balanced daylighting plans, they can support light transfer goals while enhancing fire and life safety. Consider the benefits of placing a fire-rated glass curtain wall in line with non-fire-rated glazing system. This tactic can help bring daylight deep inside multiple building areas, improve interior environments, and reduce lighting loads.
Where codes deem it is necessary to protect against the spread of fire between buildings, fire-rated glazing systems are available that have been air- and water-pressure tested and approved for exterior use. They can extend the surface area through which light can transfer to help illuminate a building's core while providing critical lot-line protection. Advanced systems are available with fire-rated insulated glass units (IGUs) incorporating tinted or low-emissivity (low-e) glass for more efficient solar energy management. For example, a fire-rated glass curtain wall using a variety of strategically insulated fire-rated glazing products, such as low-e and spandrel fire-rated glazing, can respond to the angle of the daylight and help reduce heat transfer. Simulations of the actual construction can be modelled, to give the designer the ability to know how the fire-rated glazing system will affect the sizing of the building's HVAC systems.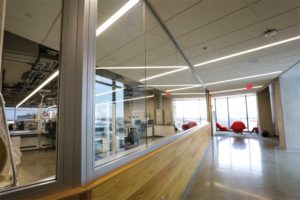 Challenge: Add visibility and daylight between building levels
When a new future emerges for an existing building, one design tactic is to use atriums or glass floor systems to increase admissible daylight and visibility. This is particularly effective in instances where perimeter glazing is limited or it is beneficial to draw daylight deep within a building's core.
A potential setback occurs in buildings where codes require a fire barrier between floors and transparency or daylight transfer is desirable. Concrete, gypsum, and masonry are effective from a fire- and life-safety standpoint. As discussed earlier, their opaque form limits views and light transfer through building levels.
Fire-rated glass floor systems are one solution that can provide the necessary fire resistance and meet design goals. They can facilitate views and increase admissible daylight while supporting structural loads and blocking flames, smoke, and heat.
Some of today's fire-rated glass floor systems achieve this level of performance by relying on a specialty load-transfer system, which separates the structural stress placed on the top sheet of glass from the fire-resistive glass below. This allows the glass floor system to support structural loads while defending against fires. There are products with the ability to support live loads up to 7.2 kN/m2 (150 psf), provide a high-level of impact safety, meet slip-resistance needs, and offer fire-resistance ratings up to two hours.
With proper planning, building teams can use these multifaceted assemblies to compartmentalize a large volume of space without restricting light transfer. One trend is to align them beneath overhead light-admitting devices, allowing light to spill down into rooms incapable of otherwise receiving sunlight from above due to code constraints. Large fire-rated glass floors can also serve as atriums or light portals for stairwells and below-ground spaces.
As with any glass floor, fire-rated glass floor systems can allow for dramatic visuals and improved continuity between building levels. This was the case when the collaborative design team of K. Norman Berry and Deborah Berke Partners sought to transform a courthouse—more than 100 years old—into a memorable historic space. To highlight the splendour of the courthouse's original domed area while promoting daylight and views, the design team aligned two fire-rated glass floor systems under the defining visual feature. The assemblies provide fire resistance, transfer daylight into the centre of the building, and allow lower-floor occupants to look all the way up to the stunning dome.
Challenge: Preserve the esthetic design intent
Whether a design team is working to preserve the historic character of an existing building or update its appearance, finding materials aligning with the desired design intent is key. Once again, this can prove challenging in areas with fire- and life-safety criteria. Fire-rated frames tend to be thicker than non-rated frames to hold the fire-rated glass and provide the necessary level of fire defense. The resulting differences in frame, profile, shape, and size can make it difficult to create and maintain a strong design intent and pattern between rated and non-rated doors, windows, and curtain walls.
Thanks to recent manufacturing developments, this dilemma is becoming a problem of the past. The transition is largely due to advances in fire-rated framing. Some fire-rated frames in the market use inherently heat-resistant carbon steel and incorporate precise European engineering. They are available in a range of narrow-mullion profiles featuring well-defined corners and crisp edges. Compared to the wraparound form of traditional hollow metal steel frames, they allow for significantly improved visual integration with non-rated assemblies. Some offerings incorporate custom cover caps and surface finishes to better match surrounding curtain wall and door applications. There are even authentic hardwood, fire-rated framing options to create and maintain the rich allure of wood.
Taking visual integration one step further, some manufacturers offer fire-rated framing systems with the appearance of structural silicone glazing, along with butt-glazed fire-rated glazing system. Sleek and monolithic, these assemblies make it possible to create a continuous glass wall esthetic in areas with stringent fire- and life-safety criteria.
With a wide range of finish and mullion options as well as a growing number of ways to retain fire-rated glazing, building teams can bridge the gap between rated and non-rated assemblies like never before.
Conclusion
For far too long, design professionals have been cornered into a particular look for the sake of fire and life safety in buildings of all types, including retrofits and renovations. Today, this is no longer necessary. With appropriate specification, design professionals can use fire-rated glazing systems to turn dark, dreary spaces into attractive, light-filled, and safe interiors.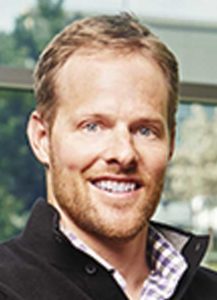 [7]Jeff Razwick is general manager of Technical Glass Products (TGP), a supplier of fire-rated glass and framing systems and other specialty architectural glazing. He writes frequently about the design and specification of glazing for institutional and commercial buildings, and is a past chair of the Glass Association of North America's (GANA's) Fire-rated Glazing Council (FRGC). Razwick can be reached at jeffr@fireglass.com[8].
Endnotes:
[Image]: https://www.constructioncanada.net/wp-content/uploads/2018/12/TGP-Image-3.jpg
Windows and Offices: A Study of Office Worker Performance and Indoor Performance: http://www.energy.ca.gov/2003publications/CEC-500-2003-082/CEC-500-2003-082-A-09.PDF
The Benefits of Daylight Through Windows: http://thedaylightsite.com/wp-content/uploads/papers/DaylightBenefits.pdf
[Image]: https://www.constructioncanada.net/wp-content/uploads/2018/12/TGP-Image-1.jpg
[Image]: https://www.constructioncanada.net/wp-content/uploads/2018/12/TGP-Image-4.jpg
[Image]: https://www.constructioncanada.net/wp-content/uploads/2018/12/TGP-Image-5.jpg
[Image]: https://www.constructioncanada.net/wp-content/uploads/2017/05/Jeff-Razwick-Bio-2015-e1495038469297.jpg
jeffr@fireglass.com: mailto:jeffr@fireglass.com
Source URL: https://www.constructioncanada.net/using-fire-rated-glazing-to-solve-design-challenges-in-existing-buildings/
---