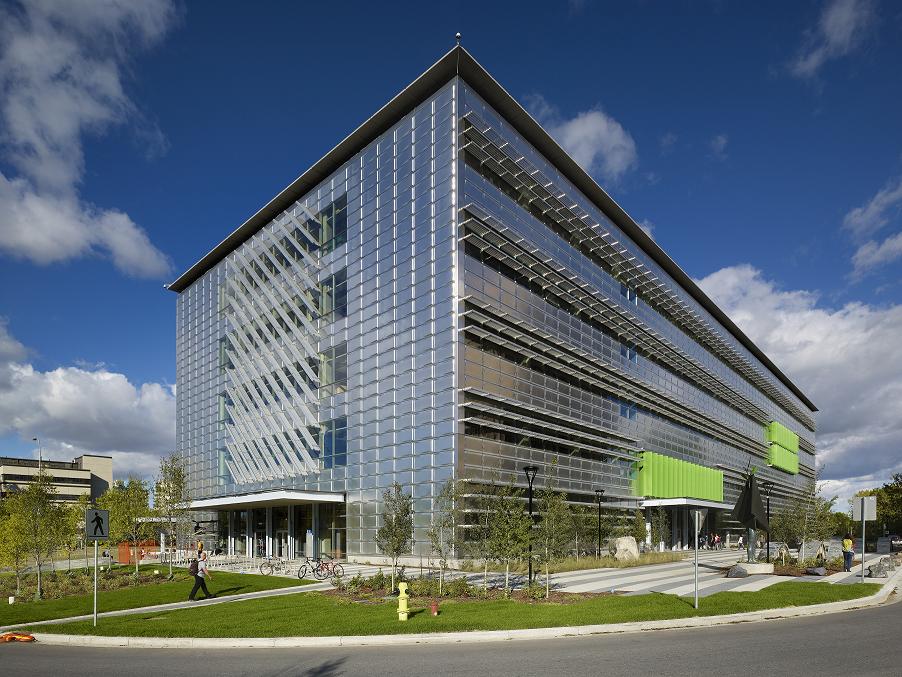 The University of Calgary's Energy Environment Experiential Learning (EEEL) centre has become one of the most efficient laboratories in North America with its Leadership in Energy and Environmental Design (LEED) Platinum certification.
The structure uses 78 per cent less energy than a typical laboratory, which are normally energy intensive. Triple-glazed windows provide extensive natural daylighting throughout the facility and light fixtures use sensors and schedules to control usage. The south side of the building includes sunshades that reduce glare and solar heat gain during the summer months.
The laboratory, designed by DIALOG and Perkins+Will, also employs efficient plumbing and heating technologies including:
water cooled in towers overnight and stored for use during the day;
underground concrete tubes move outdoor air into the main lecture hall for cooling and heating;
low-flow fixtures; and
use of rainwater and recycled process water for toilet-flushing.
Additional efficient design elements were also included DIALOG's Tim McGinn explained to Construction Canada Online.
"One of the project's goals was to provide access to daylight in every regularly occupied space within the building," he said. "It features exhaust air heat/cool recovery, displacement ventilation, and radiant heating/cooling to distribute fresh air and highly effective heating and cooling for enhanced indoor air quality (IAQ) and occupant comfort."
The project was profiled in the April 2012 issue of Construction Canada. Additionally, the university's Child Development Centre has also been certified LEED Platinum.