Transformational mixed-use development unveiled in GTA
by arslan_ahmed | September 13, 2023 3:56 pm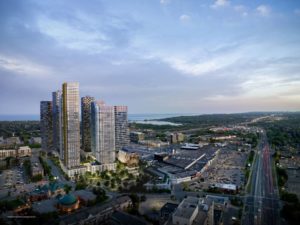 CentreCourt Developments (CentreCourt) has revealed plans for a 22.3 ha (55-acre) development in Pickering, Ont., bringing additional residential, retail, and public spaces to the revamped Pickering Town Centre.
Pickering City Centre will be a new mixed-use community located directly off Highway 401, at the epicentre of Pickering's emerging downtown core. Recognizing the immense potential of the site, CentreCourt secured the existing Pickering Town Centre Mall and surrounding lands in early 2023 and plans to develop an integrated masterplan community.
Over the next decade, a new thriving urban centre will come to life, featuring more than 6,000 residences across 10+ mixed-use towers and a revitalized Pickering Town Centre Mall, creating an undeniable anchor for Pickering and all of Durham region.
The architecture firm Diamond Schmitt designed Pickering City Centre to include an intricate network of large open green spaces and urban plazas, helping build its identity as a place that brings people together.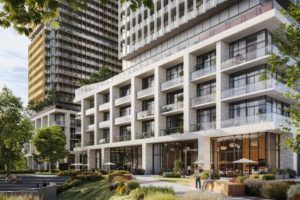 "The connected series of wide streets, parks, midblock landscaped courts, and urban piazzas are designed to connect people and activate a sense of community," says Donald Schmitt, CM principal, Diamond Schmitt Architects. "With the tallest high-rise building at 55 storeys, it was important to design a grade related network of amenities that support walkability and community connection. The cornerstone elements of the development include urban squares, which integrate the new community with a transformed retail precinct connected to public transit and other lush public green spaces. These spaces will be places for community gatherings, markets, festivals, and performances where residents and visitors come together for special moments, including sporting events and social gatherings."
Endnotes:
[Image]: https://www.constructioncanada.net/wp-content/uploads/2023/09/Pickering-city-centre-in-gta-aerial-rendering.jpg
[Image]: https://www.constructioncanada.net/wp-content/uploads/2023/09/pickering-city-centre-walkable-sustainable-connected-destination.jpg
Source URL: https://www.constructioncanada.net/transformational-mixed-use-development-unveiled-in-gta/
---