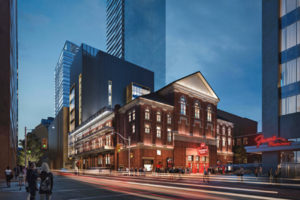 Both the federal and Ontario governments are investing $30 million each to revitalize Massey Hall, the country's oldest concert hall, in Toronto. Phase two of the revitalization project for the historic hall began in summer 2018.
"People travel from all over the world to experience a concert at Massey Hall in person. The renewal of Massey Hall will not only preserve the incredible history of the venue, it will also help Ontario's up-and-coming artists and performers by creating a new performance space with a 500-person capacity to help develop their skills," said Michael Tibollo, minister of tourism, culture, and sport.
Built in 1894, the iconic venue is located in the downtown area. Phase one of the revitalization project was completed in 2017.The hall was closed in July for construction. It will see a full restoration of the exterior and interior of the building, including 100 original stained-glass windows. A new seven-storey tower addition will feature a live-music stage and performance studio. When completed, Massey Hall will feature three performance stages, all fully accessible.