Toronto university virtually breaks ground for its new twisted building
by sadia_badhon | June 29, 2020 5:05 pm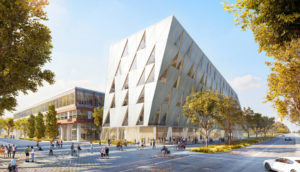 York University[2], Toronto, is constructing a 'twisted' building to house its School of Continuing Studies.
The new building, located at the university's Keele campus, will will help meet some of the demand for its innovative professional certificate programs and the York University English Language Institute (YUELI). Currently, students attend classes at various locations throughout the campus and staff is spread across four buildings.
Due to COVID-19, the school is taking a non-traditional approach to the construction groundbreaking by inviting the extended York community to visit its virtual groundbreaking webpage[3], #BiggerThanTheBuilding.
"Our students are bold, confident, and ambitious. The building is an embodiment of who we are as a school," said Tracey Taylor-O'Reilly, assistant vice-president, continuing studies. "The building will be a twisted, iconic gateway site and showcase York's long commitment to providing high-quality education to non-traditional students."
Website visitors can see the structure by scrolling through the story of the twisted building, seeing the renderings, and watching video interviews with students, architects from Perkins and Will[4], and York's leadership.
In March 2020, developers broke ground and began construction on the new 9012-m2 (97,000-sf) building.
The school is scheduled to open for students in fall 2021.
Endnotes:
[Image]: https://www.constructioncanada.net/wp-content/uploads/2020/06/Opener-14.jpg
York University: https://www.yorku.ca/index.html
webpage: https://c212.net/c/link/?t=0&l=en&o=2840672-1&h=2446438327&u=https%3A%2F%2Fcontinue.yorku.ca%2Fgroundbreaking&a=continue.yorku.ca%2Fgroundbreaking
Perkins and Will: https://perkinswill.com/
Source URL: https://www.constructioncanada.net/toronto-university-virtually-breaks-ground-for-its-new-twisted-building/
---