Toronto tower tallest residential skyscraper in Canada
by mbuckstein | March 7, 2012 8:33 am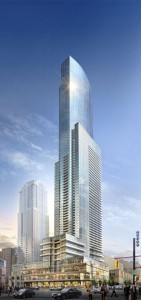 Designed to stand 78 storeys and include 985 residential units, Aura, by Canadian firm Graziani + Corazza Architects, will be the country's largest residential tower.
The 273-m (896-ft) tall building, developed by Canderel Stoneridge Equity Group, will stand on the northwest corner of Toronto's Yonge and Gerrard Streets.
Made of glass and stone, Aura will boast 120,774 m2 (1.3 million sf) and include 17,652 m2 (190,000 sf) of retail space at the podium level, along with a bank, restaurants, and a department store. Its 1043-m2 (11,230-sf) penthouse unit on the 78th floor has a price set at $18.4 million.
Canderel's Riz Dhanji told Construction Canada Online the paints and sealants used inside the building will contain low levels of volatile organic compounds (VOCs) for minimal emissions and better indoor air quality (IAQ). Individual suites will have electrical metering and in-suite controls to help regulate energy costs by allowing for individual occupant energy management. There will be double-glazed, low-emissivity (low-e) windows to help increase energy efficiency and Energy Star-rated appliances to reduce energy consumption.
Dual-flush toilets will help reduce water consumption, and a green roof will work in combination with reflective materials to help lower the heat island effect in the city, cutting heating and cooling costs within the building, and providing additional outdoor space for residents.
The building will also contain high-efficiency central boilers for heating and variable speed motors designed to use less energy and energy-efficient light fixtures and motion sensors to control lighting in corridors and other common areas (where permitted) to help reduce costs and maintenance.
Regaining the title of the tallest residential building in the country by topping Tridel's 75-storey Ten York condominium project, construction is expected to be complete by the spring of 2014.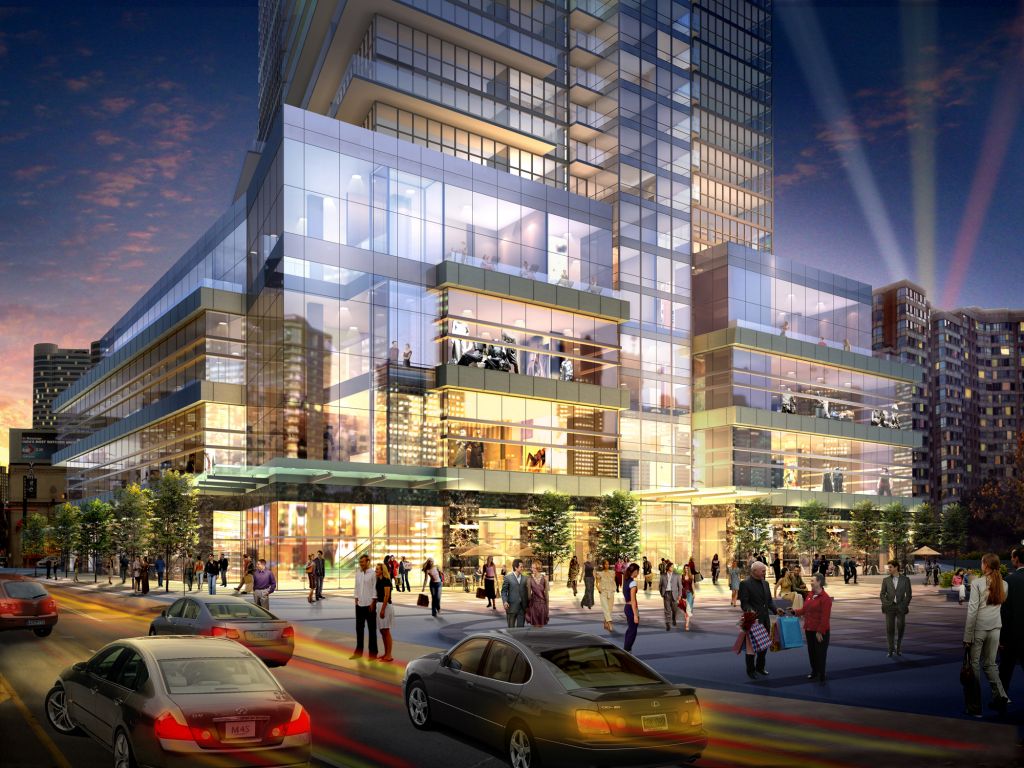 Endnotes:
[Image]: http://www.constructioncanada.net/wp-content/uploads/2014/06/FINAL-EXTERIOR-RENDERING-DAY-NOV-16-2007.jpg
[Image]: http://www.constructioncanada.net/wp-content/uploads/2014/06/PODIUM-LEVEL-NIGHT-NOV-12-2007.jpg
Source URL: https://www.constructioncanada.net/toronto-tower-tallest-residential-skyscraper-in-canada/
---