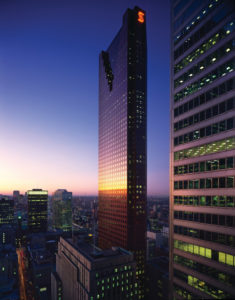 Scotia Plaza's 40 King St. W. building in Toronto has earned a Zero Carbon Building – Performance v2 Certification from the Canada Green Building Council (CaGBC). It is the largest certified Zero Carbon Building in Canada at more than 139,355 m2 (1.5 million sf).
The 68-storey office tower is a standout in Toronto's cityscape.
"This would not have been possible without the collaboration and ongoing efforts of the owners, property management team, customers, and employees," said Jon Love, CEO of real estate firm KingSett Capital. "We continue to create value and drive change through our commitment to reducing the carbon emissions of our properties."
The 40 King St. W. building has a transition plan in place to remove all carbon-intensive mechanical system over the next 18 months. The building is going beyond the Zero Carbon Building – Performance v2 certification's latest zero carbon balance requirements by also offsetting its emissions from waste-to-landfill generated onsite using Gold Standard certified carbon offsets.
The building has also achieved the largest Fitwel certification in Canada for a multi-tenant base building which promotes occupant health and well-being across seven health impact categories by incorporating evidence-based design and policy strategies to support physical, mental, and social health within the space. Other environmental certifications include the Leadership in Energy and Environmental Design (LEED) Platinum and WiredScore Certified: Gold.