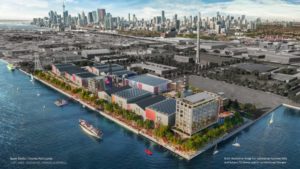 A new state-of-the-art film, television, and digital media hub is approved for development in Toronto's Port Lands.
Hackman Capital Partners (HCP) and The MBS Group (MBS) will develop and operate the Basin Media Hub on a 3.6 ha (8.9 acre) waterfront development parcel at 29, 35, and 41 Basin St.
Approved by CreateTO and city council, the proposal includes eight purpose-built sound stages, production office space, and workshop and production support space.
The Basin Media Hub presents an important opportunity to support the ongoing development of Toronto's film industry and the Media City District. The partnership is expected to create 750 jobs on-site, as well as 880 indirect or induced jobs in the broader community.
The development will provide the opportunity for HCP and MBS to partner with the city to deliver a public promenade along the water's edge, helping to further transform the Port Lands into a healthier, more livable space for workers and visitors alike.
Construction is planned to begin on the Basin Media Hub by 2023.