Toronto hospital redevelopment project marks massive milestone
by arslan_ahmed | January 24, 2023 3:59 pm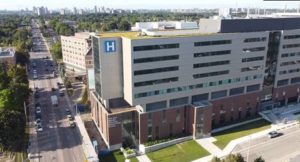 EllisDon recently celebrated a major project milestone, with the grand opening of the Ken and Marilyn Thomson Patient Care Centre at Michael Garron Hospital (MGH) in Toronto.
As the centrepiece of MGH's campus transformation, the centre is one of the largest redevelopment projects in the hospital's history. The 51,097-m2 (550,000-sf), eight-storey tower adds a total of 215 beds and will provide essential health care for more than 400,000 residents. New features include two inpatient mental health units, a surgery inpatient unit, an outpatient chronic disease unit, a medical education centre, a simulation centre, and various public areas.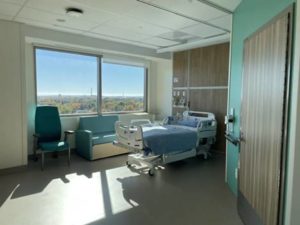 Beginning in 2018, the $498-million project was constructed in partnership with EllisDon, Infrastructure Ontario, and the Ministry of Health. Through its in-house suite of services, EllisDon took on the lead role of developer (EllisDon Capital Inc.), design-builder (EllisDon Design Build Inc.), and financial advisor (EllisDon Capital Inc.). Other key partners in the project included B+H Architects and Diamond Schmitt Architects, Mulvey & Banani International Inc., Crossey Engineering Ltd., Stephenson Engineering Ltd., and WalterFedy.
With doors at the centre now open, the project will continue until 2024, with renovations to approximately 9,300 m2 (100,000 sf) of select areas, decommissioning of outdated wings, and addition of new greenery and landscaping.
"We're extremely proud to have reached this monumental milestone on the new Thomson Centre," says Andrew Anderson, senior vice-president and Toronto area manager for EllisDon. "This project was a massive undertaking, and its successful completion was as a result of the
outstanding teams behind it and the collective efforts put forth during some unprecedented challenges."
Endnotes:
[Image]: https://www.constructioncanada.net/wp-content/uploads/2023/01/AA_MichaelGarron_1-1.jpg
[Image]: https://www.constructioncanada.net/wp-content/uploads/2023/01/AA_MichaelGarron_2.jpg
Source URL: https://www.constructioncanada.net/toronto-hospital-redevelopment-project-marks-massive-milestone/
---