Toronto hospital heals its wind-tunnel woes
by carly_midgley | April 3, 2017 3:33 pm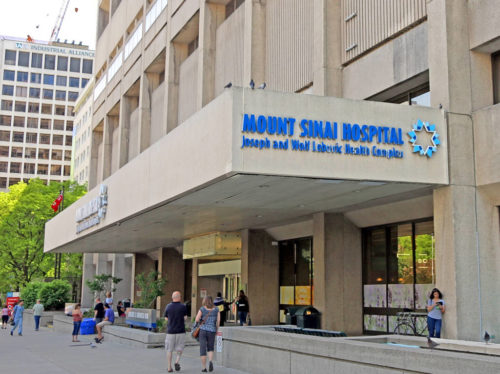 Until recently, cold Toronto winds interfered with Mt. Sinai Hospital's healing environment due to heavy foot traffic in a three-entrance public corridor on the main floor. In addition to creating freezing conditions within the hall, the winds also interfered with productivity, preventing employees from opening a swinging staff entrance door.
"On the hospital's main floor, there is a long corridor between University and Murray Streets," says Tony Khouri, the hospital's vice president of facilities and capital development. "Formerly, we had double sliding doors at each entrance, and because of the high foot traffic we had lots of problems with blasts of cold air running up and down the corridor."
Khouri says Mt. Sinai experiences a great number of users for these entrances, averaging 1000 per hour.
In February 2016, a renovation was completed to eliminate these issues. The hospital selected a proprietary door system in response to a consultant's recommendation that revolving doors would interfere with the wind infiltration.
While sliding doors remain at each entrance, they are now button-activated and intended for use only in emergencies or for accessibility purposes. At the larger entrance at Murray Street, the hospital has installed a dual-wing revolving door measuring 5 m (16 ft) in diameter, which should be able to accommodate wheelchairs and stretchers and offer accessibility for those arriving or leaving via car. At the smaller entrance at University Street, a similar two-wing revolving door has been installed at the top of a flight of stairs, measuring 3 m (12 ft) in diameter.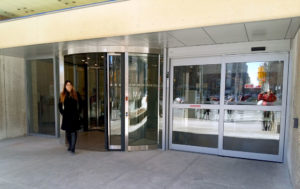 "We try to monitor the sliding door use as much as possible, but we still have some gusting issues," says Khouri. "The revolving doors are the best solution, given our space and property limitations, and these entrances have cut our wind-tunnel effect by 60 to 70 per cent. I believe that the revolving doors are the biggest factor in the improvement."
The previously unopenable employee entrance also underwent a change, and is now fitted with a four-wing manual revolving door measuring 2 m (8 ft) in diameter. The two public-entrance doors are designed to manage high volumes of foot traffic, and their size allows them to do so without generating a large footprint.
According to Khouri, the doors "are of good quality, they're superior to regular doors, and they are helping us achieve our entrance and comfort goals."
Endnotes:
[Image]: https://www.constructioncanada.net/wp-content/uploads/2017/04/Mt.-Sinai-Building.jpg
[Image]: https://www.constructioncanada.net/wp-content/uploads/2017/04/Mt.-Sinai-Duotour-Exterior2.jpg
Source URL: https://www.constructioncanada.net/toronto-hospital-heals-its-wind-tunnel-woes/
---