Toronto Distillery District heritage building to become hotel
by brittney_cutler_2 | January 11, 2022 3:29 pm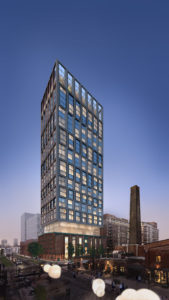 The last remaining heritage building in Toronto's Distillery District will have a new lease on life as a Curio by Hilton hotel. Located at 60 Mill Street, the project will be the perched at the entrance of the historic community.
Rising 31 storeys, the full-service hotel will preserve the heritage building's exteriors as the base three floors. It will span 27,756 m2 (288,000 sf) and feature 392 guest rooms, plus first-class amenities including a rooftop bar and restaurant with spectacular views. Led by a team including IBI Architects, ERA Heritage Architects, and Studio Munge, the project will pay homage to the building's history as a rack house built in 1890.
While the tower emerges from the top of the heritage building, it will feature "reveal floors," which will be set back to allow for a distinct visual separation between the old and the new
The entire volume of the existing heritage building will be publicly accessible to highlight the past use of the building to all visitors.
Endnotes:
[Image]: https://www.constructioncanada.net/wp-content/uploads/2022/01/BC_EastonHotel.jpg
Source URL: https://www.constructioncanada.net/toronto-distillery-district-heritage-building-to-become-hotel/
---