Toronto completes Union Station Revitalization Project, Bay Concourse
August 10, 2021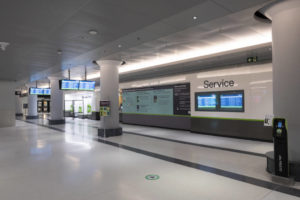 The City of Toronto reopened the revitalized Bay Concourse at Union Station, marking the completion of the $824 million Union Station Revitalization Project (USRP).
The Union Station Revitalization Project is a major investment in critical transit infrastructure and features:
more than triple the original size of GO Concourse space for commuters;
an addition of approximately 14,900 m2 (160,000 sq-ft) of new retail space;
a new food court under the York Concourse;
a revitalized VIA Concourse and Panorama Lounge;
installation of the Front Street, York Street and Bay Street glass moat covers;
expanded PATH access;
two new bike parking stations; and
restored and preserved heritage elements throughout the station.
At approximately 5600 m2 (more than 60,000 sq-ft), the new and transformed Bay Concourse is over 50 percent larger than the original. In addition to providing more space, it offers services and amenities like the York Concourse for GO customers, including more PRESTO and ticket vending machines and more departure boards. It also provides additional access to all platforms, making travel on GO trains safer and more convenient.
The Bay Concourse connects to the Bay retail area, which offers more than 3300 m2 (36,000 sq-ft) of additional retail space, and seamlessly connects to the Toronto Transit Commission (TTC), the Union Food Court and the future Fresh Market.
Osmington, the head occupant at Union Station, will open the remaining retail units in the station on a rolling basis throughout 2022, including the Fresh Market and TD Bank retail branch.
"Union Station is now ready to more completely welcome people back to downtown Toronto and back to work as we move ahead with the reopening," said Toronto mayor John Tory. "Thank you to residents and commuters for their patience as we pushed through this renovation of the largest commuter hub in Canada that is itself more than a century old."
Endnotes:
[Image]: https://www.constructioncanada.net/wp-content/uploads/2021/08/MA_Concourse.jpg
Source URL: https://www.constructioncanada.net/toronto-completes-union-station-revitalization-project-bay-concourse/
---