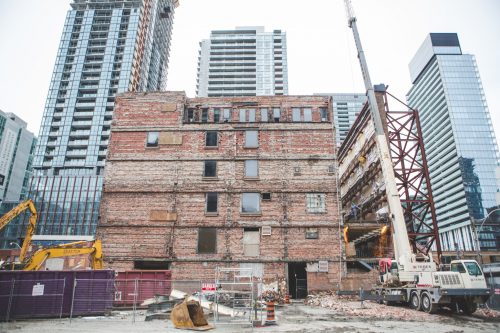 Toronto's Westinghouse building sets a record for highest historical façade ever retained in Canada.
Westinghouse was an industrial building in downtown Toronto during the 1920s. International real-estate developer Greenland Group is renovating the building into condominiums. In a process to save the architectural monument, the façade is being separated from the rest of the building while leaving it standing in place. The walls are secured in place with a steel structure to protect the fragile terra cotta detailing.
"The complex process to save the Canadian Westinghouse has never really been done before," said Paul McMurray, senior project manager of Greenland Group. "From the dismantling, we reclaimed 30,000 brick pieces and they will be incorporated into the building. We are also salvaging beams and connections to hopefully use as display or incorporate into the architectural design."
To learn more about the project, click here.