Toronto firm's project to tackle TO's lack of affordable housing
by farheen_sikandar_2 | October 5, 2022 2:16 pm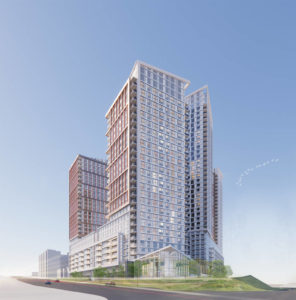 A new proposed development, designed by Sweeny&Co Architects, aims to alleviate the housing crisis in Toronto, Ontario, by building four towers containing a mix of 1400 condos and rental units; with 70 per cent of them designed to be affordable.
The mixed-use development, to be built at the corner of Black Creek Drive and Lawrence Avenue West, will cover nearly 92,903 m2 (1 million sf) of land. Currently, the site is a 1.4-ha (3.5-acre) strip mall plaza.
"We have not been mandated to do an affordable housing component to this project. Rather, we decided we're going to dedicate this whole project to the idea of affordable housing and creating much needed affordable housing in the city of Toronto," says Sherry Larjani, president of Spotlight Development, the real estate developer behind the project.
"The housing crisis is because of the lack of supply, and if we can help developers by facilitating in many ways to be able to create more housing, we're tackling the concept of affordable housing in some way," Larjani added.
The developer has partnered with four non-profit agencies, Habitat for Humanity, WoodGreen Community Services, BlackNorth Initiative, and Trillium Housing to develop affordable ownership models.
Endnotes:
[Image]: https://www.constructioncanada.net/wp-content/uploads/2022/10/AA_TorontoDevelopments.jpg
Source URL: https://www.constructioncanada.net/toronto-architects-to-tackle-lack-of-affordable-housing/
---