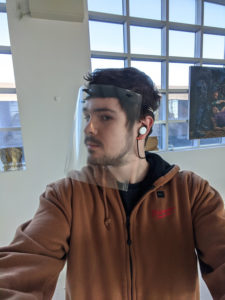 As COVID-19 continues its transmission around the world, there is a severe and mounting disruption to the global supply of personal protective equipment (PPE) due to panic buying, hoarding, interruption in global supply chains, and geo-political responses. In order to limit the spread of the virus and prevent more people from having to go to the hospital, the Canadian COVID Creators Network (CCCn) seeks to unite architects and designers to create and distribute face shields that will protect front-line community workers from COVID-19.
Toronto-based architecture studio PARTISANS and Puncture design studio launched CCCn.
"While hospital workers are in dire need of PPE to protect themselves and their patients from becoming infected, so too are other front-line community workers such as shelter workers, public transit workers, grocery store operators, and health-care professionals," CCCn said on their website. "Shortages are putting lives at risk and putting a greater burden on hospitals."
CCCn has created a video, which provides step-by-step instructions on how to make the face shields. The design of the face shields have been tested in the hospital environment for strength and durability, tested through the hospital sanitation process, and is designed to print efficiently. They can also be sanitized upon arrival, disassembled, sanitized again, and a new, clean sheet can be added in minutes.