Thinking Zinc: Examining the cladding options
November 7, 2016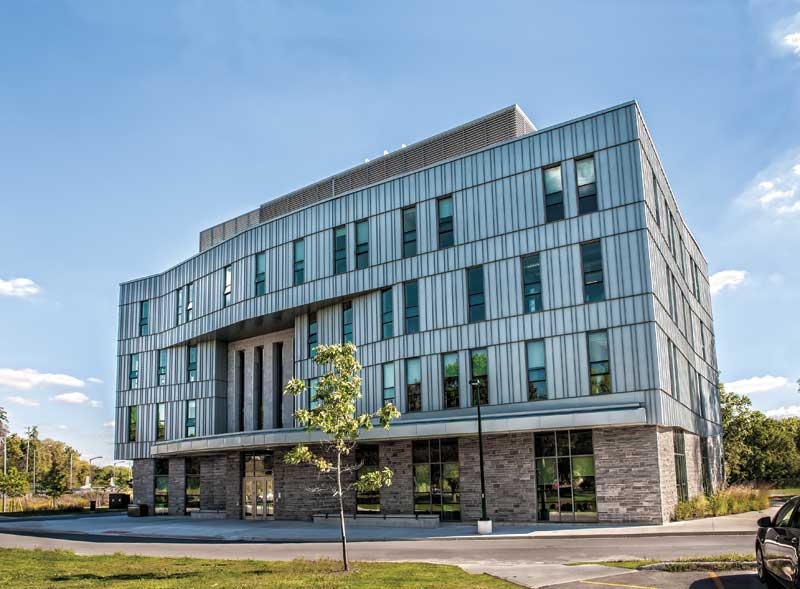 By Peter Gatto and Charles "Chip" McGowan
This article examines some of the advantages, characteristics, and cladding choices that 'zinc' (or, more accurately, architectural rolled zinc) offers the built environment. The material is a mixture of titanium, zinc, and copper; essentially, it is an engineered, non-ferrous metal alloy of high-grade zinc. For more than 200 years, zinc has been utilized by European designers and craftsmen to clad structures that have endured for generations. Since at least the early 1990s, it has also been recognized in Canada for the significant value offered as a cladding material.
From an owner's perspective, one value of using zinc is its longevity. The life expectancy of a roof is anywhere from 80 to 100 years while a wall can last as long as a century and a half. Since zinc is a natural material, it weathers according to its environment. When exposed to wetting and drying cycles, the surface will slowly develop a natural patina comprised of zinc carbonate (ZnCO3) or zinc hydroxide in a marine environment. The patina is a thin outer layer that protects the underlying alloy and ensures its long life.
The formation of the patina is a process of the gradual growing together of patinated 'freckles,' while its formation rate is related to the slope of the surface and exposure to moisture. The patina forms faster on a slightly pitched roof than on a vertical wall surface. Ultimately, the natural patina forms to a uniform colour—an essential esthetic difference from painted surfaces. The slope-related patination speed can vary between six months and five years, depending on climatic conditions. The more exposure to wetting and drying cycles, the quicker it develops.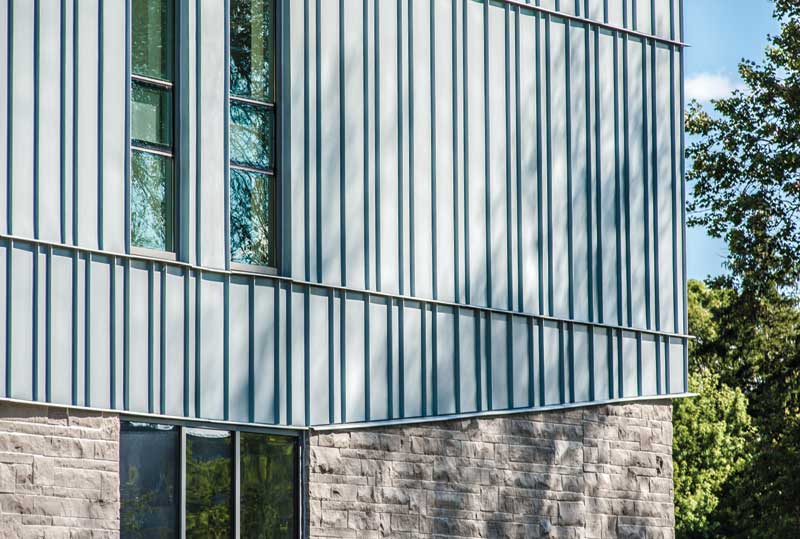 Advantages of zinc
Zinc is a 'sacrificial' material. When scratched, scuffed, or fingerprinted, the metal heals itself by re-patinating, through exposure to water and drying, to match the surrounding metal—with time, it blends so the scratch disappears. This is important when exposed surfaces such as bare edges form the grey patina, reducing the need for touch up paint or edge coatings as the patination process will take over.
While the patina colour is determined by the composition of the alloy and the environment (or compounds present in the air and environment), it is possible to have slight variations from coil to coil, panel to panel, or within an individual sheet or panel surface. Owners, architects, and installers should be aware and expect possible variations that will even out over time—as is the case for many other construction materials exhibiting tonal variations. However, variations will dissipate as the material goes through wetting and drying cycles, developing its natural patina.
Zinc may be employed inland or in marine environments. Roofing comprising the material has been used for more than 100 years in coastal climates, with numerous examples of old European zinc roofs still in existence.
The durability of zinc as roofing, roof drainage, and cladding material is inherent in the material itself; it can be attributed to the ability to form a protective patina that prevents the zinc from oxidizing.
The patina also makes it possible for low to no maintenance needs over the life of the material. Other benefits to using zinc include ease of fabrication, clear rainwater runoff, and its ability to be recycled an infinite amount of times without the loss of properties.
Based on known ore reserves, the world's zinc supply is expected to last 700 years; scrap is also eliminated through recycling. The material has a low primary energy content (embodied energy) compared to other architectural metals. The primary energy required to produce zinc coils is 3610 kW hours per tonne, which is substantially less than most metals. This is because the concentration in zinc ore is higher than other metals in their respective ores. It is also due to the fact zinc has a relatively low melting point—about 418 C (785 F)—and requires a relatively low level of fuel to extract, smelt, alloy, roll, and fabricate the metal. By comparison, the melting point of zinc is about two-thirds that of aluminum and a third that of copper or steel.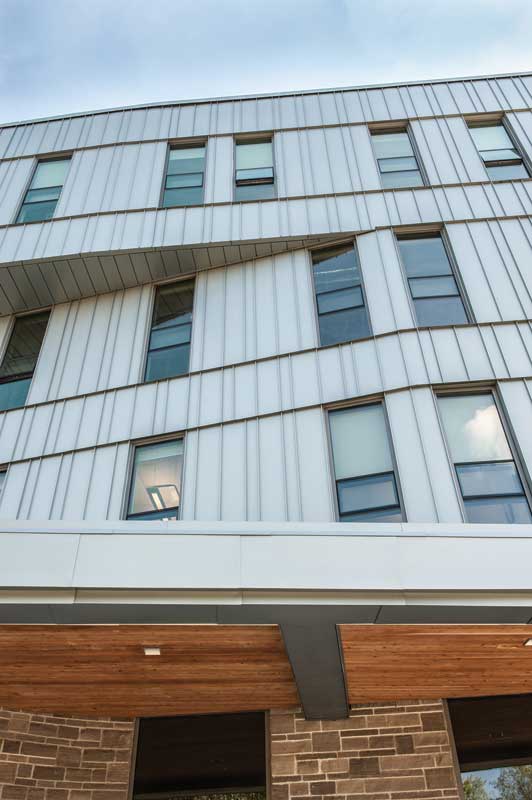 Zinc as a building material
As a building material, zinc is manufactured in continuous 1-m (40-in.) wide strips; it is shipped as flat sheet or rolled coils in 24, 22, 20, 18, and 16-gauge thicknesses. Generally, thinner material is used for wall tiles, roofing, gutters, and drainage products. Thicker material is fabricated into large-format wall panels.
Most material manufacturers support owners, architects, and contractors by offering in-depth information on material attributes and installation considerations, including:
selecting cost-effective wall systems;
detailing on a budget;
choosing efficient wall panel sizes; and
fabricating for efficiency.
Selecting a cost-effective wall cladding system
Zinc can be fabricated into various systems, most of which can be designed to be cost-effective. For example, zinc can be rolled-formed into various profiles and installed as wall cladding, utilizing the same detailing as other metals. The simple lap joints and large format of profile panels keep labour costs to a minimum.
Detailing on a budget
When it comes to applications such as standing-seam panels, the choice of details can significantly affect the price. For example, with a standing-seam façade panel, an outside corner can be detailed to have an exposed handcrafted seam termination, or panels can be simply and easily slid into a separate J-trim that caps off the panel ends to avoid expensive handwork. This type of detailing is common in North America and can be used with zinc.
Choosing efficient wall panel sizes
Efficient use of materials is another means to install zinc in a cost-effective manner. Panel sizes should be chosen on the basis of utilizing the full width of the sheet or coil to avoid generating any scrap material. Zinc typically comes in 1 or 0.5-m (40 or 20-in.) widths.
Fabricating for efficiency
The choice of fabrication techniques affects the cost. Roll-forming is always less expensive than break-forming. Corrugated, standing-seam, and flush seam panels are all systems that can be roll-formed. The more pieces that have to be installed, the more expensive the job—both in terms of fabrication and installation. To achieve engineering requirements and minimize oil-canning, smaller panels or heavier-gauge zinc may be necessary.
Zinc cladding choices
Light-gauge roll-forming equipment provides an economical way to fabricate interesting panel profiles such as standing seam and reveal panels. With the ability to alter the installation orientation to be horizontal, vertical, or diagonal, architects are able to achieve inspiring designs. Some other zinc profiles are discussed in the paragraphs that follow.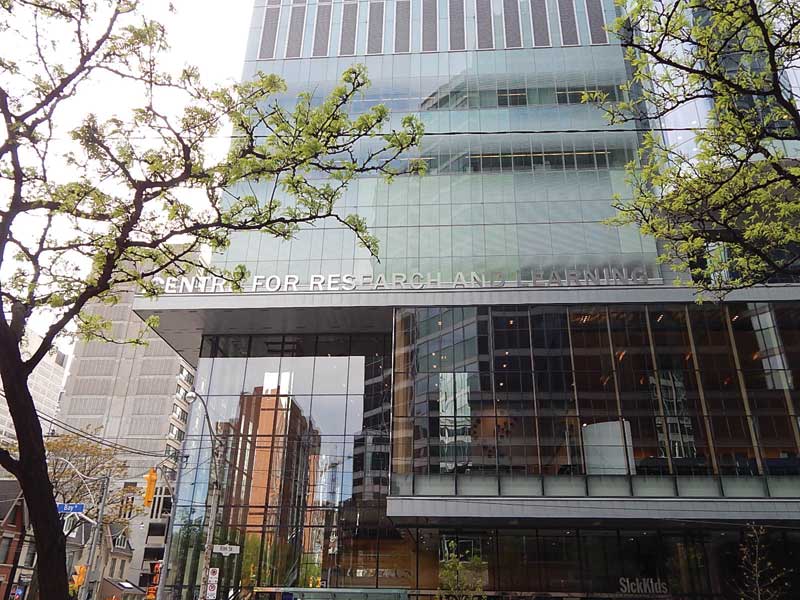 Corrugated
Common sinusoidal profiles have heights of 13, 19, and 22 mm (½, ¾, and 7/8 in.). The typical sine frequency of 7/8-in. high panels is 67.8 mm (2.67 in.). Trapezoidal profiles for wall applications vary widely in profile, but generally are deeper and higher (more than 25 mm [1 in.]) in section and offer a much stronger shadow effect. Either corrugated profile will provide the zinc sheet with greater rigidity and strength. Both the sine wave and trapezoidal corrugated profiles are an excellent way to maximize panel strength while minimizing metal cost with light-gauge zinc. Many of these profiles are available with concealed fasteners for wall applications.
Standing seam
Vertical standing seam panels using the single- or double-lock seaming method have long been used for roof applications. Using this profile on a wall surface with seams oriented horizontally (or vertically, for shorter panels) makes for a cost-effective zinc cladding system. Given the optimal drainage plane, the single or angle lock standing seam installation method is preferred, as it allows walls maximum horizontal panel movement. With 25-mm seam height, standing-seam pans are typically 305 to 424 mm (12 to 16.7 in.) wide. For zinc snap-seam profiles, one should consult the panel manufacturer for information regarding the acceptance of zinc specific to that seam type.
Flush/reveal panels
Architects looking for a monolithic, natural grey wall with minimal shadow lines often choose a flush (hairline joint) reveal panel. Similar profiles with extended 'male' lateral edges will create a reveal or recessed seam. Both profiles can be installed in a horizontal or vertical orientation. Shorter panels can be through-fastened at the bottom female's lock joint. Longer lengths (i.e. greater than 4 m [13 ft]) should employ a sliding clip to accommodate thermal movement.
To balance oil-canning and material cost, the face dimension (usually 203 to 305 mm [8 to 12 in.]) and material thickness (0.8 to 1 mm [0.03 to 0.04 in.]) should be co-ordinated. Panel end 'return' bends will stiffen the profile.
Interlocking flat-lock tile
Interlocking flat-lock tiles provide an easily installed dry-joint wall cladding solution. Interlocking tiles are a popular profile choice, with many sizes, shapes, metal thicknesses, and orientation patterns.
Flat-locks offer numerous design alternatives. Tiles can be fabricated into various shapes including rectangles, squares, and diamonds. (The time required to cut, notch, and fold interlocking tiles makes them more costly to fabricate than roll-formed profiles.) Indirectly attached with concealed clips, flat-lock tiles provide a low-tech profile with built-in expansion provisions at every joint.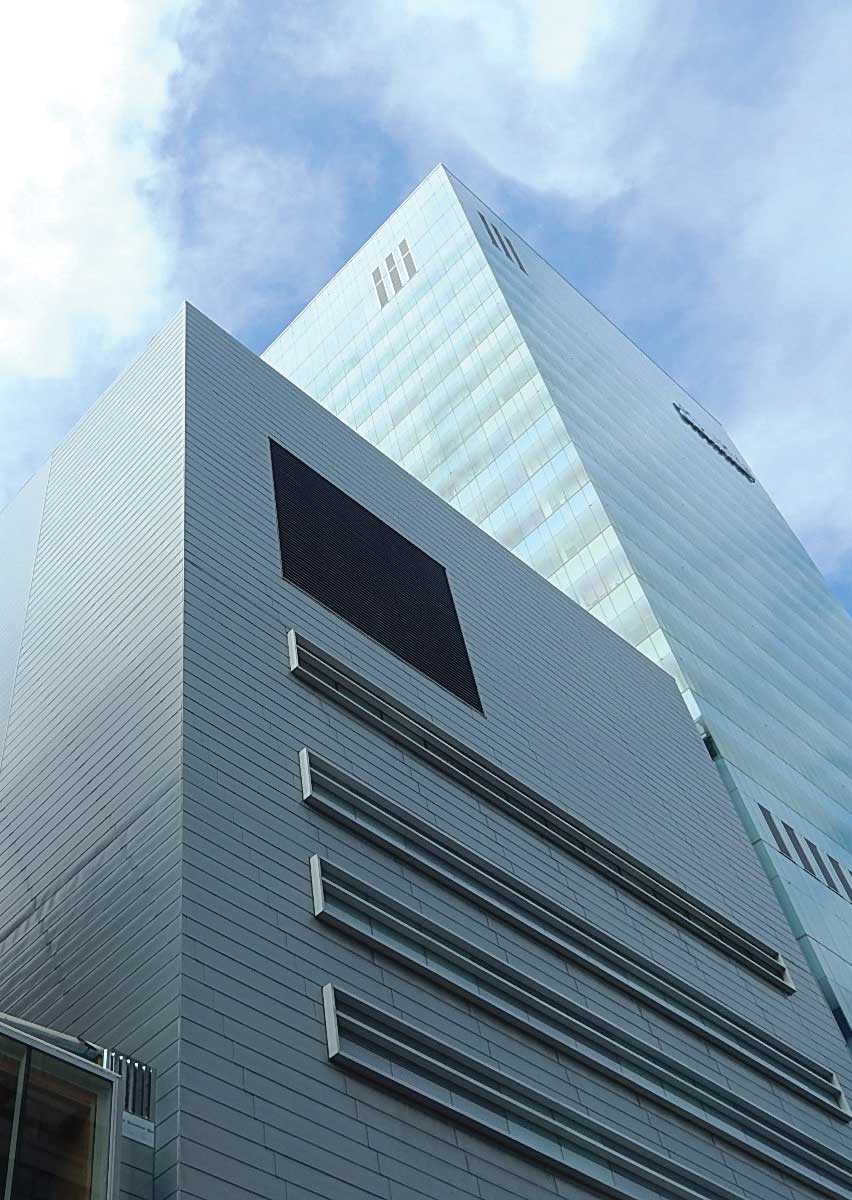 Examples of zinc projects
Two relatively recent Ontario projects provide a good sense of the form and function exemplified by zinc assemblies.
SickKids Hospital
The Peter Gilgan Centre for Research and Learning at the Hospital for Sick Children (SickKids) in Toronto brings under one roof 2000 researchers and staff previously dispersed throughout six buildings. At 72,278 m2 (778,000 sf), the 21-storey laboratory is believed to be the largest child health research tower in the world, and among the largest labs in high-rise form.
Situated on a dense urban site, the building was designed by Diamond Schmitt Architects, and serves as a centre of excellence for SickKids to further its commitment to advancing pediatric research. The state-of-the-art laboratory and learning facilities are designed to support the collaboration that results in research findings and the critical links between discovery and application in the care of a sick child.
Approximately 4924 m2 (53,000 sf) of pre-patinated blue-grey flat-lock tiles were specified in façade and soffit applications. The soffit panels highlight the main entrance and provide a contemporary, welcoming appearance to visitors and staff alike. The project was certified Gold under the Leadership n Energy and Environmental Design (LEED) program. It provides a whole-building approach to sustainability in five key areas of human and environmental health: sustainable site development, water efficiency, energy efficiency, materials selection, and indoor environmental quality.
Western University
The new Western Centre for Public Health and Family Medicine is the gateway building to Western University's recently created Westminster Campus in London, Ont. The approximately 2970-m2 (32,000-sf) building sits on a previously undeveloped site across Medway Creek from the main campus. Designed as a signature entryway to the new master-planned quadrant, the building offers a contemporary appearance, yet reflects some of the characteristics of the neo-Gothic style of the main campus.
Approximately 2000 m2 (21,500 sf) of pre-patinated blue-grey vertical standing-seam panels were used to accomplish the design objectives. Zinc was also utilized in soffit and flashing applications on the four-storey structure, designed by Perkins + Will, Toronto.
"This was our first use of zinc on a college campus," said Doug Oliver, project architect and associate principal. "It's a little unusual for a university because the vocabulary generally tends to be fairly conservative. But we thought there was an opportunity here to strike a more contemporary tone with this building and the [zinc] was part of that language."
The architectural zinc interfaces with a stone base, and the design also includes narrow windows that reference the neo-Gothic style of other campus buildings.
"We felt it was a sympathetic material in combination with the stone base and it was chosen in part for environmental reasons as well as longevity and its low-maintenance characteristics," according to Oliver.
The architectural firm has considerable experience in using zinc as a design material.
"One of our specialties is cancer centres, and we have used zinc in some manner on nearly all of them," Oliver said.
Choosing the right manufacturer
It is essential to choose a manufacturer that certifies its material to ASTM B69-13, Standard Specification for Architectural Rolled Zinc. One should partner with a responsible zinc manufacturer who will assist and train installers with good craftsmanship skills, facilitating a successful project from design through completion.
Selecting a good materials manufacturer is imperative to the success of any project. Choosing a manufacturer with a longstanding and trusted history is vital. Here are some key questions to consider when choosing an architectural-grade zinc manufacturer:
Does the manufacturer provide strong support from schematic design through construction?
Is the material readily available via distribution channels throughout North America?
Does the manufacturer have details?
Does the manufacturer offer a solid warranty within North America (and one that is enforceable)?
Does the manufacturer have company employees located in North America?
These are just a few points to contemplate when choosing the right zinc manufacturer as no two companies operate the same.
Conclusion
Zinc is an ever-changing canvas responding to water exposure and wetting and drying. Although zinc has the ability to last 70 to 150 years (depending on the application), proper detailing, fabrication, and workmanship are imperative to its longevity as a building envelope material.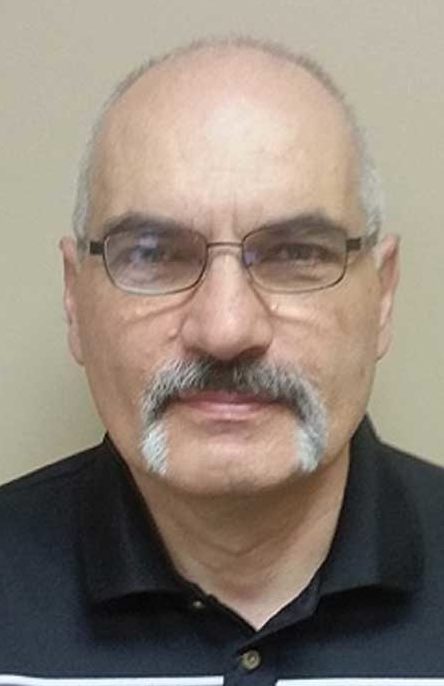 Peter Gatto has been part of the Agway Metals Inc. team for almost 15 years. His experience with the company and previous responsibilities has provided him with extensive knowledge of the metal cladding industry. In 2004, Gatto took on the responsibilities of looking after the zinc products for Agway, which resulted in taking on the responsibilities for the RheinZink product line. He can be reached at pgatto@agwaymetals.com[1].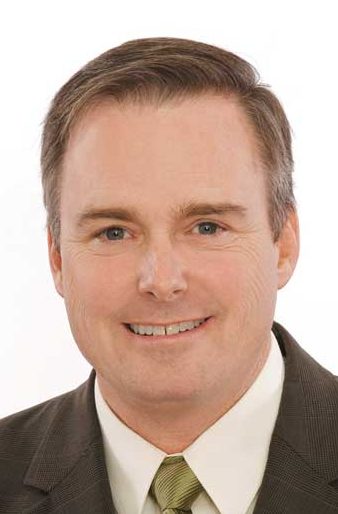 Charles (Chip) McGowan is president of RheinZink America, a position he has held since 2010. He was previously branch manager/product manager for Coastal Metal Service, a division of Beacon Sales Company. A member of the Metal Construction Association (MCA), McGowan is involved with the distribution of RheinZink throughout Canada, the United States, and Mexico, as well as overseeing its technical training programs. McGowan can be contacted via e-mail at charles.mcgowan@rheinzink.com[2].
Endnotes:
pgatto@agwaymetals.com: mailto:pgatto@agwaymetals.com
charles.mcgowan@rheinzink.com: mailto:charles.mcgowan@rheinzink.com
Source URL: https://www.constructioncanada.net/thinking-zinc-examining-the-cladding-options/
---