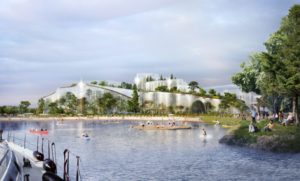 Therme Group is working with the Government of Ontario and City of Toronto to contribute to the revitalization of Ontario Place with partners Mississauga's of the Credit First Nation (MCFN), Toronto International Film Festival (TIFF), and The Black North Initiative.
Ontario Place will be a family friendly experience with indoor and outdoor pools, waterslides and a wave pool, natural spaces to relax, sports performance and recovery services, and gardens.
Ontario Place has historically been a publicly accessible destination for recreation, entertainment, and leisure. People will be able to better connect with the lake through the planned creation of more than 3-ha (8 acres) of public spaces, including a free-access public beach and enhanced pedestrian and cycling access.
Therme's bridge to the West Island will support the extension and enhancement of the William G. Davis Trail across the entire site, including providing a new link to the mainland from the West Island, allowing people to enjoy more of Ontario Place outdoors year-round.
As part of its focus on holistic well-being, Therme Group supports arts and culture by working with local and internationally recognized artists. It commissions and integrates art installations in each of its destinations, bringing art to the public outside of the traditional spaces of museums and galleries.
Therme Canada will create more than 2200 construction jobs, 800 full-time permanent positions, supporting the city and province's tourism sectors and post-pandemic recovery.