Teeple Architects announces new leadership team
by sadia_badhon | January 13, 2021 6:37 am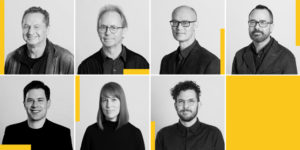 Teeple Architects[2] has announced five new principals: Richard Lai, Myles Craig, Tomer Diamant, Avery Guthrie, and Wes Wilson. These internal leaders join founder Stephen Teeple and Chris Radigan in managing the practice.
"We are incredibly proud to formally acknowledge the talent within our studio," Teeple said. "Each new principal has been of utmost importance to the practice—not only by enhancing our capabilities and the quality of our work, but also the manner in which they have strengthened and evolved our culture and client service. Their collective ideas and leadership are invaluable as we look toward the future."
Lai has over 30 years of architectural design experience in Canada, New Zealand, and the United Kingdom. His expertise includes both design and management in a variety of building types and scales including residential, institutional, educational, commercial, health care, and cultural projects. Lai has a strong background in library design and programming expertise in complex building detailing, building code and life safety compliance, and the renovation and expansion of existing structures.
Craig is passionate about precise detailing and working with owners, consultants, construction managers, contractors, builders, and trades to effectively integrate state-of-the-art building systems into, the firm said in a press release. Craig's portfolio of practice is balanced between major institutional projects, including labs and educational facilities and the mid high-rise residential sector.
Since joining the firm in 2008, Diamant has helped guide the design and realization of numerous projects in higher education, performing arts, housing, and mixed-use development. He brings a strong design and technical force to the office and approaches each project with a pragmatic and a collaborative spirit, the firm said.
Guthrie has been based in Vancouver since 2017 and is dedicated to co-ordinating Teeple projects in British Columbia. She has played key roles in managing a range of high profile projects in addition to managing the firm's successful pursuit of a number of prominent public and private sector commissions, the firm said. Her interests and expertise range from master planning and facilities planning to detailed building execution.
Wilson has extensive professional experience in conceptual and technical design development, project and systems coordination, contract documentation, specification development, and site administration. His blend of design acumen and technical expertise makes him a well-rounded contributor to the practice, the firm said.
Endnotes:
[Image]: https://www.constructioncanada.net/wp-content/uploads/2021/01/Opener-3.jpg
Teeple Architects: http://www.teeplearch.com/
Source URL: https://www.constructioncanada.net/teeple-architects-announces-new-leadership-team/
---