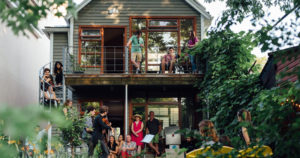 Toronto-based architecture firm Sustainable has become one of 230 Certified B Corporations in Canada and the country's first architecture firm to receive the designation.
Certified B Corporations are businesses meeting "the highest standards of verified social and environmental performance, public transparency, and legal accountability to balance profit and purpose," according to Certified B Corporation.
Certified corporations are legally required to consider the impact of their decisions on the well-being of employees, clients, suppliers, community, and the environment.
"The foundation of our business is equally balanced on the triple bottom line, people, planet, and prosperity," Sustainable said.
Certifying as a B Corporation does not stop at certification—they are expected to continue growing an inclusive and sustainable economy.
"Paul Dowsett (principal architect) and the team at Sustainable recognize the critical role that all businesses, and particularly architects, play in shaping the kinds of communities in which people thrive," said Anne Gloger, principal at East Scarborough Storefront, Centre for Connected. "In the 10 years that I have worked with this incredible team I have seen countless examples in which they have put equity, inclusion, and community building at the forefront of their practice."