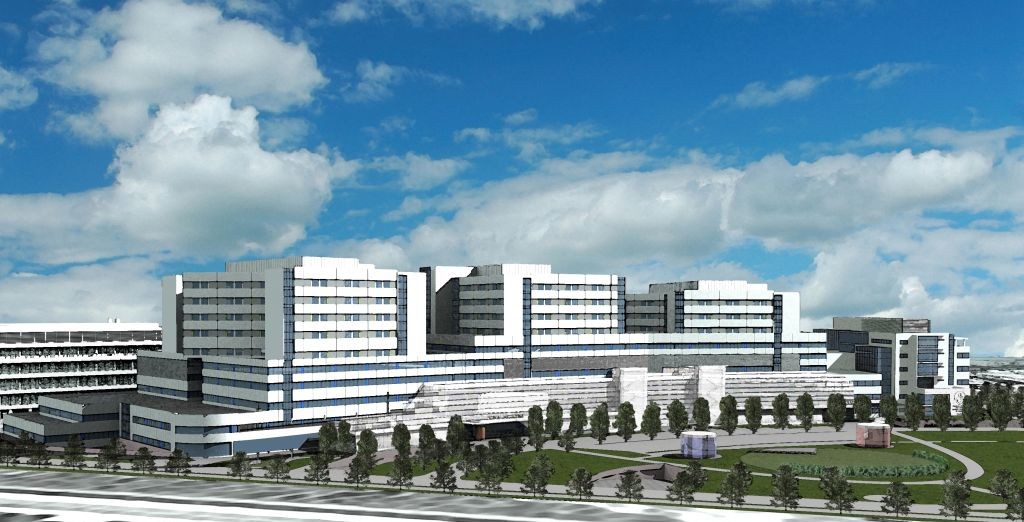 One of the largest hospital projects in Canada is being constructed in Montréal by the McGill Health Infrastructure Group, a partnership between SNC-Lavalin and Innisfree.
Julie Paquet, communications lead for the new McGill University Health Centre (MUHC), told Construction Canada Online the $2.25-billion project is spread out over three campuses. These include Glen Campus, which is 100 per cent new construction, and Mountain and Lachine campuses—modernizations and expansions of current facilities.
Construction of the Glen Campus, which brought 2000 workers onto the site, started in June 2010 and will be complete by the end of 2014. Forming a new state-of-the-art facility, the Glen Campus will regroup:
• Montreal Children's Hospital;
• Royal Victoria Hospital;
• Montreal Chest Institute;
• a cancer centre; and
• MUHC's research institute.
"The new healthcare facility is being constructed to consolidate our activities on three campuses," said Paquet. "We're currently spread over six major sites and a dozen satellite sites, and we want to improve the quality of our services—care, teaching, and research—with state-of-the-art facilities."
The Glen Campus is aiming for Silver certification under Leadership in Energy and Environmental Design (LEED), as well as recognition by the Building Owners and Managers Association Building Environmental Standards (BOMA BESt) program.
Since the Glen Campus is located on a former brownfield site, a major decontamination operation was required before construction began. During this period, the site was regularly irrigated with surface water that had been recovered and treated onsite to minimize soil erosion, sediment accumulation in the sewer system, and ambient dust. Further, 95 per cent of construction and demolition debris was diverted from landfill for reuse and/or recycling.
In addition to reducing water consumption, MUHC will try to maintain an energy-efficient hospital and improve ambient air quality. Other priorities include ensuring ecological development of the site, efficient use of materials and resources, and environment protection.