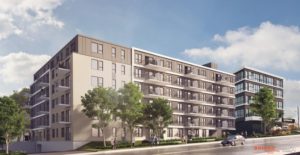 The AM/FM construction project will offer two buildings for student housing near Cité-Universitaire de Québec, Québec City, by end of June. Fonds immobilier de solidarité FTQ is teaming up with Bilodeau Immobilier on this project.
The project involves the acquisition of an existing building that was completely rebuilt in 2013 (the "FM"), comprising 28 units on five above-ground floors and 643 m2 (6926 sf) of commercial space on the ground floor, while the second building will be a new construction comprising 74 units (the "AM") on an adjacent lot.
The project's name refers to the location of the CHRC 80 radio station, which closed its doors in September 2012 after 86 years. The building was purchased in 2011, reduced to its shell, rebuilt, and named "FM."
The AM/FM project will consist of:
a 3213 m2 (34,585 sf) lot;
102 units spread over two buildings;
various sizes of loft-style units; and
indoor and outdoor parking spaces.
The AM building will be a concrete structure consisting of six above-ground floors containing rental units. All units will have a balcony, large windows, washer-dryer connections, wall-mounted air/conditioning and an air exchanger.
"Located near Cité-Universitaire, the AM/FM project is in a strategic location, right in the heart of a core area of Québec City," said Éric Bilodeau of Bilodeau Immobilier. "There is definitely demand for new, quality housing in Québec City, for both local and foreign students, making the AM/FM an excellent option, especially since it offers indoor parking and a fitness room, rare amenities in Québec City."