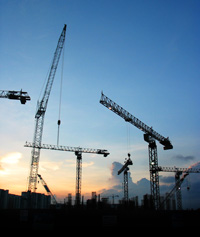 The importance of building a design firm through alliances was the theme of the third annual educational event sponsored by Toronto accounting firm Shimmerman Penn. Held last month, the event drew architects and engineers to hear speakers such as Ryerson University's president, Sheldon Levy, and many of the city's top architects.
Levy spoke about the redrawing of downtown Toronto, discussing how his school's expansion is affecting the urban core. He stressed the importance of public-private partnerships (P3s) in terms of leasing and sharing space. Levy also previewed the transformation of a former brewery, soon to house Ryerson's School of Image Arts, a facility he described as being "a touchstone of design and construction excellence."
A roundtable that included Cathy Garrido (Altius Architecture), Susan Ruptash (Quadrangle Architects), and Lind Nyman (Parkin Architects) also discussed P3 partnerships, but examined other ways design firms are evolving. They explored how services such as construction management are now being incorporated into the overall offerings of architectural firms. Other topics included the potential and pitfalls of limited joint venture arrangements (and the ensuing insurance and collaborative issues), and how changes to the Architects Act of Ontario are creating opportunities for non-architectural firms to take an ownership stake in design firms.
The event also included Shimmerman Penn principal Elaine Pantel, who spoke about corporate planning and structure for multi-disciplinary services firms. She said design firms now have greater opportunities to develop new services and specialties in-house, and collaborate among firms to win projects (particularly P3s), both in Canada and abroad.