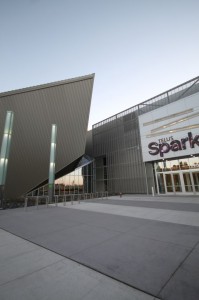 The winners of this year's Alberta Steel Design Awards of Excellence have been announced by Canadian Institute of Steel Construction (CISC).
The March 21 event, held at the Northlands Edmonton EXPO Centre, honoured six projects for their use of steel in innovative designs and challenges. A total of 28 projects were submitted for consideration, with winners chosen by a panel of industry architects and engineers.
The winners, two of which have been featured in Construction Canada magazine, are:
Telus Spark, The New Science Centre, CANA Construction (Architectural Award);
Edmonton Federal Building, Parkade and Centennial Plaza, Stantec Consulting (Building Communities Award);
Peace Bridge, Stantec Consulting Limited (Engineering and Steel Edge Award);
Suncor TRO Water Barges, Supreme Steel LP Edmonton (Industrial Award); and
Pembina Hall Student Residence, University of Manitoba, Supermétal Structures (Sustainability Award).
The event, which takes places every two years, included a project showcase followed by a banquet to announce the winners and a networking reception.