Steel Products and LEED v4: What design professionals need to know
by Katie Daniel | November 8, 2016 10:03 am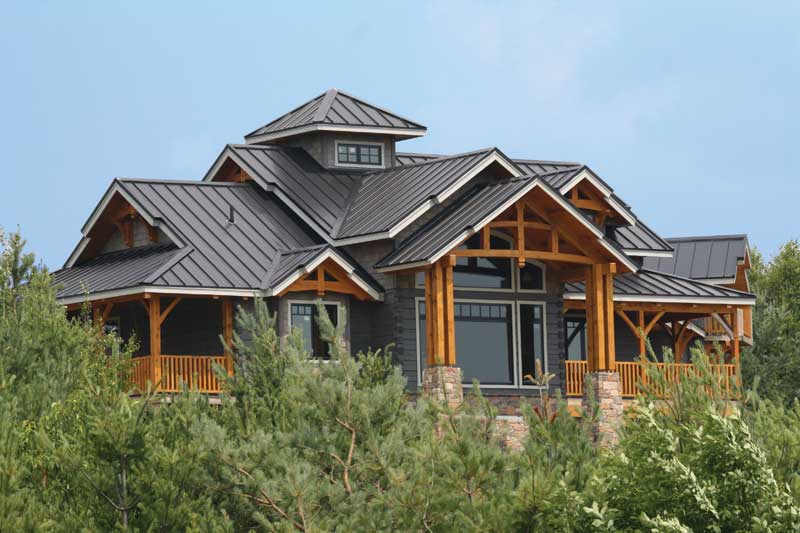 By Mark Thimons, PE, LEED AP
Steel has long been praised for its strength, durability, and functionality. More recently, architects and engineers have recognized the material's additional sustainability advantages, particularly its high recycled content and end-of-life recovery rate.
When used in construction, steel contains between 25 and 100 per cent recycled content, is nontoxic and noncombustible, creates minimal waste during production, and is 100 per cent reusable or recyclable with no loss in properties. This point is particularly important as the ability for future generations to continually reuse steel products gets at the very definition of sustainability. The amount of energy needed to produce a tonne of steel has decreased by 31 per cent, and the associated carbon dioxide (CO2) emissions by 36 per cent since 1990, with more improvements on the way.
The recent introduction of the newest iteration of the Leadership in Energy and Environmental Design (LEED) program—LEED v4—brings an increased focus on materials and resource transparency, and building professionals need to understand how material decisions can affect the project review and certification process. Steel-intensive building designs can be a significant contributor to earning points for a variety of LEED v4 credits, and may provide builders an immediate advantage because of the availability of supply chain and raw materials, and the lower energy use for all steel products.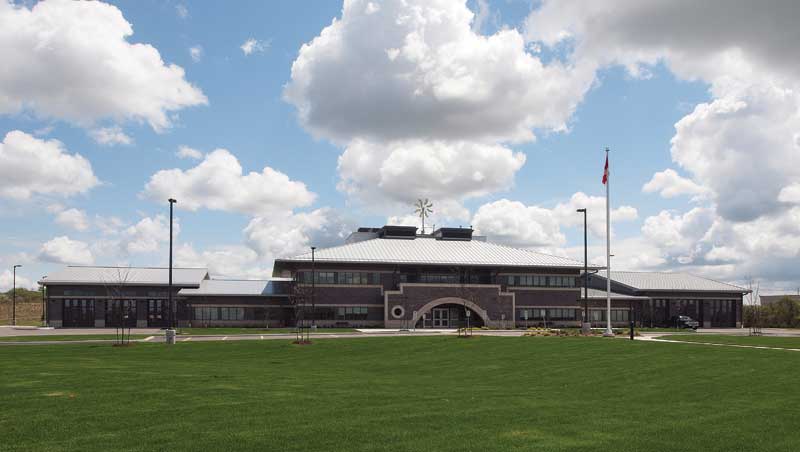 Introducing LEED v4
As consumers, businesses, and building owners around the world increasingly demand sustainable performance, the green building industry is growing at an unprecedented rate. The LEED rating system was introduced by the U.S. Green Building Council (USGBC) in 1998, partially to help construction professionals design, construct, and operate buildings in more sustainable and efficient ways. In North America, 334.5 million m2 (3.6 billion sf) of real estate is currently LEED-certified, and that number is poised to continue growing. The green building growth rate is projected to hit 13 per cent through 2020, and the industry is still a $120- to $145-billion market growth opportunity. (For   more   info, visit www.environmentalleader.com/2015/02/17/green-building-market-to-experience-13-growth-rate-through-2020 and www.usgbc.org/Docs/Archive/General/Docs18693.pdf[1].)
LEED can help bring architects, engineers, contractors, and other building professionals together early in the construction process to collaborate and plan for sustainable building design. LEED is increasingly referenced in planned building project specifications, so it is vital for construction professionals to remain up-to-date with the latest developments and requirements. Projects seeking certification can register for the USGBC and Canada Green Building Council's (CaGBC) LEED 2009 rating system until October 31 of this year—at that point, registration closes and LEED v4 becomes the standard for any new projects.
Originally set to close on June 15, 2015, LEED 2009 registration was extended to allow users and members of the green building industry additional time to prepare for LEED v4, which features a more rigorous certification process and multiple updates to the rating system. These updates are the result of a rapidly evolving industry with increasing demand for environmental sustainability.
The development of LEED v4 has spanned more than three years, engaging hundreds of volunteers and thousands of stakeholders around the world. In order to follow an internationally consistent approach to how LEED is implemented around the world, CaGBC has developed alternative compliance paths (ACPs) within the international rating system, which identify equivalent means of demonstrating compliance with credit requirements specific to Canadians' needs.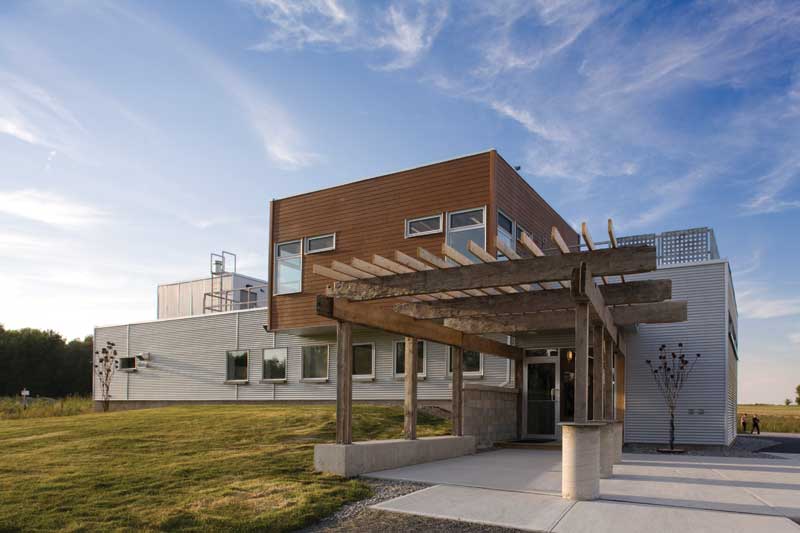 LEED v4 takes a more all-encompassing look at buildings' environmental sustainability, while also considering the health impacts to each building's occupants. These human health credits are new to the LEED rating system, and can be achieved through a variety of documentation practices, including health product declarations (HPDs) and material health certificates. These documents were created to examine the potential human health impacts of products used in building construction, attempting to provide a transparent path to describing all the ingredients used in products and their related health hazards.
In the interest of improving its rating system methods, LEED v4 also takes an expanded look at building material credits, including life cycle assessment, environmental product declarations (EPDs), and improved product transparency.
Registration for LEED v4 is straightforward. It can be completed through CaGBC's website, selecting the applicable LEED v4 rating system for each project. With LEED Online, the project team can then create a project profile to help co-ordinate and expedite the documentation and certification process.
LEED v4 has expanded its list of project types to include a wider variety of building types, each with a unique set of sustainability needs and challenges. LEED v4 addresses 21 different market sector adaptations, including:
new and existing data centres;
new and existing warehouse and distribution centres;
hospitality;
existing schools;
existing retail; and
multi-family mid-rises. (A full listing of project types can be found on CaGBC's LEED v4 Resources page. For more information, visit www.cagbc.org/CAGBC/Programs/LEED/LEEDv4/LEED_v4_Resources.aspx[2].)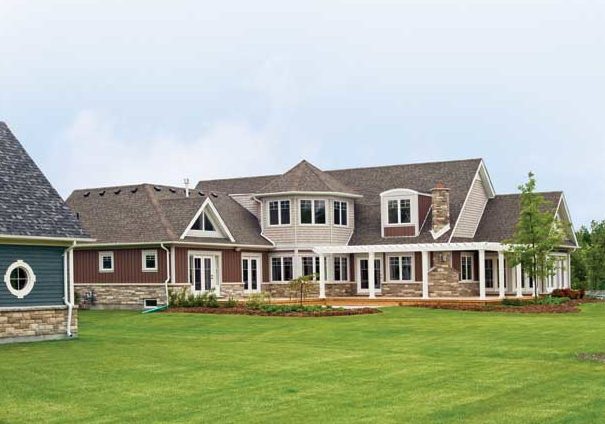 How steel can help projects achieve LEED v4 certification
Steel has always been well-positioned for credits in categories like recycled content, but LEED v4 offers even more opportunities to earn credits for steel use across a range of categories.
Sustainable Sites credits
The Sustainable Sites (SS) category rewards decisions benefiting the environment surrounding the building, with credits to emphasize the vital relationships among buildings, ecosystems, and ecosystem services. It focuses on restoring project site elements, integrating the site with local and regional ecosystems, and preserving the biodiversity on which natural systems rely.
Steel-intensive design can contribute to multiple credits within LEED v4's SS category. Since most steel structures and components are manufactured offsite, construction time and the likelihood of site disturbances are reduced, contributing to the Site Development: Protect or Restore Habitat credit. Many steel roofing products are available to meet the solar reflectance index (SRI) criteria in the Heat Island Reduction credit, resulting in reduced cooling loads and lower utility bills. Some of these products utilize reflective pigment technology, which allows for a wider range of colours that meet the LEED v4 requirements.
Energy and Atmosphere credits
LEED's Energy and Atmosphere (EA) category approaches energy from a holistic perspective, addressing energy use reduction, energy-efficient design strategies, and renewable energy sources. Steel framing can contribute indirectly to the Optimize Energy Performance credit due to its dimensional stability. When properly designed, these assemblies help provide an exceptionally tight building envelope, resulting in reduced air loss and better building energy performance over time.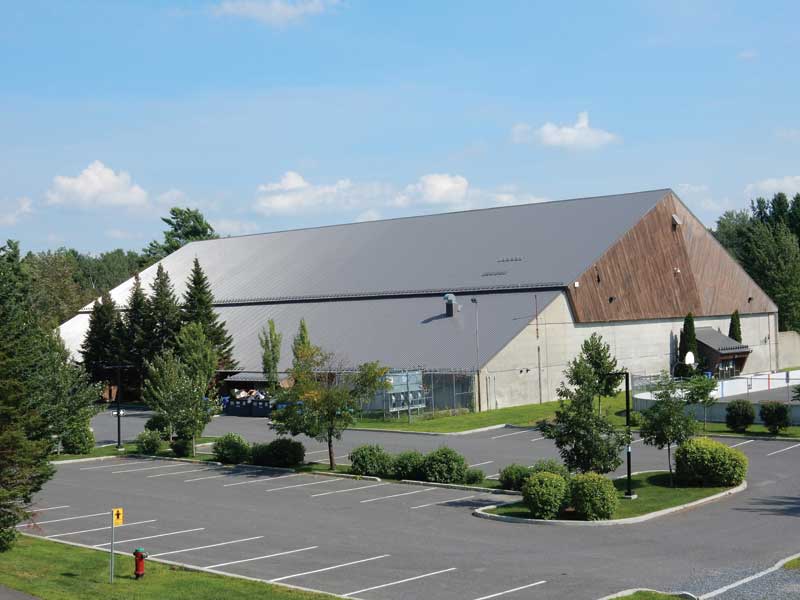 Steel roofs provide an excellent platform for solar photovoltaic (PV) systems because their expected long lifespans equal or exceed the 20- to 30-year expected life of the solar PV panels. These roofs can help designers attain points through the Renewable Energy Production credit. Additionally, proprietary connection and framing systems are available for the mounting of PV panels directly to the standing seams of steel roofing panels, eliminating the need for attachments penetrating the roof.
Materials and Resources credits
The Materials and Resources (MR) category focuses on minimizing the embodied energy and other impacts associated with the extraction, processing, transport, maintenance, and disposal of building materials. The requirements are designed to support a life cycle approach that improves performance and promotes resource efficiency. This category is where steel-intensive design truly excels within LEED v4 requirements, helping project teams earn a variety of credits.
Industry-wide and product-specific EPDs for several North American steel construction products have been completed or are nearing completion. Simply providing an EPD for building products will earn the disclosure portion of the Building Product Disclosures and Optimization−EPDs credit under LEED v4.
Steel is a material with an environmentally, economically, and socially preferable life cycle impact (LCI) compared to many alternative construction materials.
Due to their high recycled material content, steel structures and components are valuable for builders seeking Building Product Disclosures and Optimization−Sourcing of Raw Materials credits. Steel is the only building material recognized by LEED as having a default of 25 per cent post-consumer recycled content, and product-specific documentation of recycled content in steel products may be as high as 100 per cent for some products like structural sections and reinforcing bars.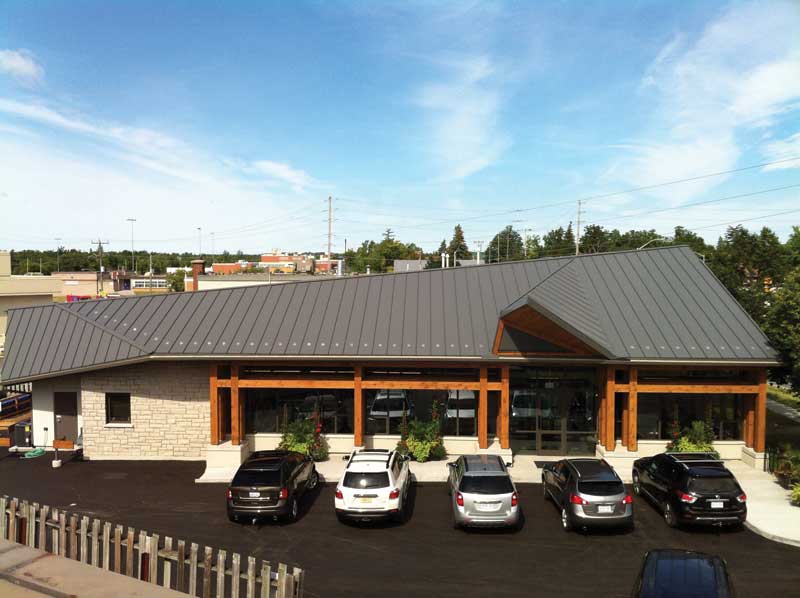 For each of the Building Product Disclosures and Optimization categories, disclosure involves providing documentation about some of the building material products used in a project. Optimization involves assurances a percentage of building products complies with environmentally positive characteristics identified in LEED v4.
Due to offsite fabrication, steel generates very little construction waste; and, because steel scrap has value, it is typically reused or recycled. Any steel generated from demolition can be easily recycled, greatly assisting with obtaining the Construction and Demolition Waste Management credit.
The Building Life Cycle Impact Reduction and Design for Flexibility credits focus on the ability of a building to be reused and modified to meet changing needs throughout its lifetime. Steel buildings are easily adaptable and suitable for reuse. With bolted and screwed connections, building products can be disassembled and repurposed easily, and welded members can be cut without compromising the material and limiting its reusability. Cold-formed steel partitions can easily be removed, reused, and/or relocated as part of a building modification. Structural steel framing can be easily modified for changes in loading requirements and/or changes to intended use or occupancy.
Steel typically emits no volatile organic compounds (VOCs) once installed in a building, and most steel-based furniture is capable of meeting the "Minimal Chemical Content" requirements of the Furniture and Medical Furnishings credit. (This credit is only applicable to healthcare structures.)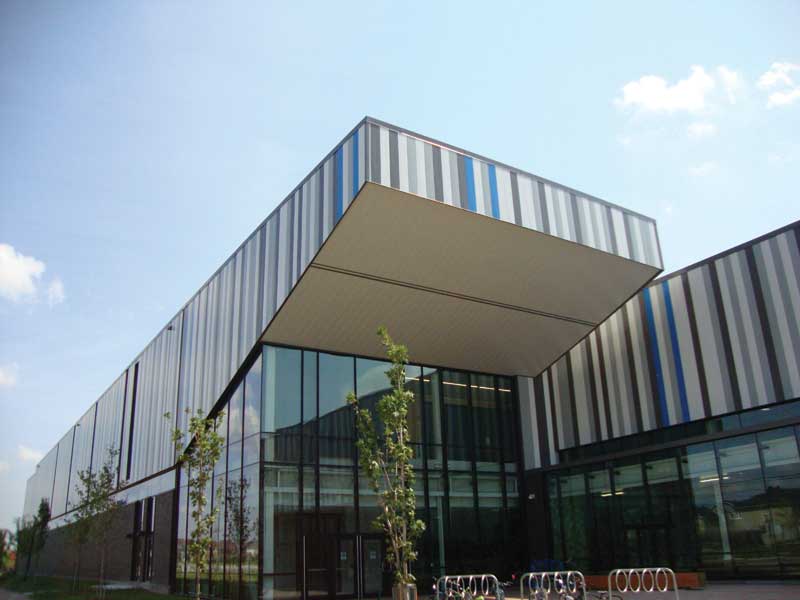 Transparency in the North American steel industry
The North American steel industry provides resources to help building professionals earn LEED v4 certification. In particular, the industry has been working to develop a complete list of available EPDs for steel building products. The steel-industry EPDs are more comprehensive than those of some other building materials, creating an all-encompassing view of each product's environmental impacts. (Construction professionals interested in viewing and using EPDs and other transparency resources in their building projects can visit the Steel Market Development Institute (SMDI) site, www.buildusingsteel.org[3], for a list of steel product EPDs and updates on other sustainability resources.)
Currently, there are EPDs for these product categories:
cold-formed steel studs and track (Steel Recycling Institute [SRI]);
open-web steel joists (Steel Joist Institute [SJI]);
steel roof and floor decks (Steel Deck Institute [SDI]);
roll-formed steel panels for roofs and walls (Canadian Sheet Steel Building Institute [CSSBI])'
insulated metal panels (Metal Construction Association [MCA]);
fabricated steel plate (American Institute of Steel Construction [AISC]);
fabricated hot-rolled structural sections (AISC);
both primary and also secondary structural steel frame components (Metal Building Manufacturers Association [MBMA]); and
roll-formed metal wall and roof panels (MBMA).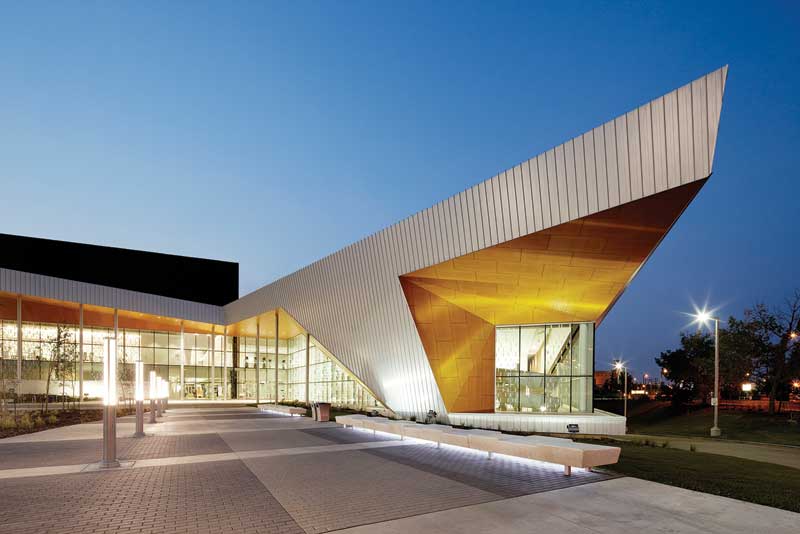 Future of sustainability in the steel industry
As green building requirements increase in number and stringency, the steel industry is expanding its efforts to improve sustainability and transparency. Many manufacturers of construction products are currently working to develop health product declarations that provide a transparent path to declaring the ingredients used in products and their related health hazards. These HPDs will help building professionals earn additional credits within the new LEED v4 rating system.
Some of the building information modelling (BIM) programs are beginning to directly embed environmental information in building designs to help assess the life cycle environmental impacts early in the materials decision-making process.
An increased knowledge and understanding of the environmental impacts of building materials will lead to an increase in truly sustainable buildings in the future. Construction professionals and the general public are becoming increasingly aware of the need for consideration of sustainability principles. The industry will likely continue to see the impact of this increased demand, as well as continued improvement in tools to demonstrate how materials, products, and buildings affect the environment as architects, designers, and specifiers design the sustainable steel buildings of the future.
 STEEL ROOFING FOR COLDER CLIMATES
Steel roofing systems are often chosen by school, government, commercial, industrial, and institutional building owners due to their esthetics, durability and life cycle cost benefits. They are available in several stock sizes and finishes, and can be customized to satisfy the requirements on both simple and highly complex iconic projects.

Due to their light weight per unit area, steel roofs can provide structural savings in buildings when compared with heavier non-metal roofing alternatives. For reroofing projects, steel roofing can often be applied over the non-metal roof, saving removal and disposal costs. Above all, steel roofing systems provide significant advantages in reduced energy use and overall sustainability.

Buildings consume two-thirds of all electricity produced and one-third of all energy produced in North America. While it is recognized that adding insulation under the roof surface can reduce cooling and heating costs, there is a diminishing return on the strategy of increasing insulation to conserve energy costs. This is where 'cool roofing' can play roles in further reducing the energy consumed and in minimizing the heat island effect created in large urban areas.

Steel roofing materials are available in a variety of finishes, colours, textures, and roofing profiles, with varying levels of reflectivity and emissivity to fit building needs in a wide range of regions and climates. Reflectivity is the ability of a roof to reflect solar radiation back into the atmosphere, preventing it from being absorbed into the building envelope and reducing the need for energy to cool the building. Emissivity is the ability to emit absorbed solar infrared radiation back to the atmosphere.

Since much of Canada has long, cold winters, this time of year's 'heating load' conditions generally have a greater influence on energy consumption than the summer's 'cooling load' when analyzed over the course of a full year. The degree of influence depends primarily on the geographic location, the insulation level in the roof assembly, and the cost of energy. For example, heating loads in Winnipeg are much higher than in Windsor, Ont., because of the former's greater number of heating degree days. These climate factors require building professionals to consider materials with different reflectivity and emissivity properties than their colleagues working on projects in warmer climates such as the southern United States.

Calculations involving solar reflectance and emittance can be used to determine the energy savings attributable to a roof. Steel roofing can reduce energy costs associated with air-conditioning. For cooling loads, it is advantageous to reflect as much solar radiation as possible, and to re-emit as much of the absorbed infrared radiation as possible. However, for energy savings associated with heating loads, absorption of solar infrared radiation is beneficial; it is best to retain absorbed solar radiation rather than emit it back into the atmosphere.

In other words, for colder Canadian climates, it is best to have roofing products with high reflectivity and low emissivity. Metallic coated steels, such as Galvalume Plus (i.e. 55 per cent aluminum-zinc) combine these properties, making them the best option for low-slope roofs in Canada.

In addition to their energy-saving benefits, steel roofs can contribute to a building's use of renewable energy. They provide the optimal foundation for photovoltaic (PV) installations since the roof can be expected to last longer than the solar system it supports. When it is ultimately removed as part of building demolition or renovations, steel used in metal roofing is fully recyclable, allowing it to credibly claim both a high level of recycled content and 100 percent recyclability by recognized definitions. The product's recyclability also provides significant savings on construction removal and disposal costs.

Residential buildings can also benefit from steel roofing applications. This sector has grown significantly as residential customers begin to see the long-term energy savings and other benefits of steel roofing. For residential customers interested in steel roofing, a rebate coupon for up to $500 is available from Canadian Sheet Steel Building Institute (CSSBI).*

* Visit steelroofsource.com[4].
Mark A. Thimons, PE, LEED AP, is the vice-president of sustainability for the Steel Market Development Institute (SMDI), a unit of the American Iron and Steel Institute (AISI). He is responsible for overseeing the Steel Recycling Institute (SRI), as well as research projects demonstrating the life cycle advantages of steel in all markets. Thimons serves on the board of directors of the Sustainable Buildings Industry Council (SBIC) and the Cool Roof Rating Council (CRRC). He can be contacted via e-mail at mthimons@steel.org[5].
Endnotes:
www.environmentalleader.com/2015/02/17/green-building-market-to-experience-13-growth-rate-through-2020 and www.usgbc.org/Docs/Archive/General/Docs18693.pdf: http://www.environmentalleader.com/2015/02/17/green-building-market-to-experience-13-growth-rate-through-2020%20and%20www.usgbc.org/Docs/Archive/General/Docs18693.pdf
www.cagbc.org/CAGBC/Programs/LEED/LEEDv4/LEED_v4_Resources.aspx: http://www.cagbc.org/CAGBC/Programs/LEED/LEEDv4/LEED_v4_Resources.aspx
www.buildusingsteel.org: http://www.buildusingsteel.org
steelroofsource.com: http://steelroofsource.com
mthimons@steel.org: mailto:mthimons@steel.org
Source URL: https://www.constructioncanada.net/steel-products-and-leed-v4-what-design-professionals-need-to-know/
---