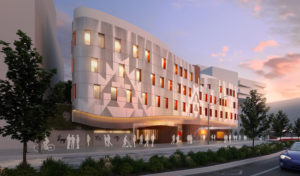 In recognition of Canada's National Indigenous Peoples Day, the Anishnawbe Health Toronto Indigenous Community Health Centre (ICHC) broke ground June 21 on the construction of the new four-storey, 4181-m2 (45,000-sf) facility.
Slated for completion in Fall 2022, the centrepiece of Toronto's new Indigenous Hub occupies a prominent location in Toronto's Canary District on the former delta of the Don River, regarded as traditional Indigenous land.
Stantec collaborated with Indigenous-owned Two Row Architect on the design of the centre, which will unite services from three locations under one roof to centralize and improve access to health care for the city's Indigenous communities. The $33.6 million facility will combine Indigenous and Western approaches, complemented by social and cultural programs, to serve Indigenous groups in the Toronto area.
ICHC's design represents Toronto's Indigenous culture inspired by key touchstones—the land, natural remedies, traditional healing, sunrise, and woven patterns. The perforated metal façade wraps the building and is inspired by the woven shawls used in ceremonial dances. The 'shawl' opens to the east and to the four-story atrium organizing the centre's clinical spaces and provides physical and visual connection to the landscape courtyard.
The ground floor will be home to key programs like the ceremonial space, sweat lodge, Traditional Healer, and the community kitchen, each established as standalone pavilions inspired by pebbles in a stream. Since art is an important part of storytelling and Indigenous culture the design weaves art into the building fabric through interior glass panels displaying patterns and artwork chosen by the community. The central red staircase is inspired by 'the red road'—an Indigenous metaphor speaking to the idea of making wise and spiritual choices in life.
The central landscaped courtyard, rising 6 m (21 ft) from street level and accessible from the first and second floor of ICHC, is unique and emblematic of a land-inspired approach. At the heart of the development, it connects people and place with a walking path surrounded by native plants of tobacco, sage, cedar, and sweetgrass surrounding seven benches representing the seven grandfather teachings: wisdom, love, respect, bravery, honesty, humility, and truth. Meshed with the path is a meandering bioswale collecting rainwater for irrigation.
"It was an honour to contribute to a new and much-needed layer of Indigenous culture and presence within the urban fabric of the city," said Michael Moxam, design culture practice leader for Stantec. "With an approach grounded in the land and landscape, the Indigenous Hub will be a unique urban experience in Toronto."
In addition to the ICHC, the Indigenous Hub master plan, developed through years of engagement with the First Nations community and other stakeholders, envisions condominiums and 200 units of rental housing, an education and training facility, a daycare, and the adaptive re-use of the heritage-designated Canary Building. The hub master plan was designed by Stantec and BDP Quadrangle in consultation with Two Row Architect.