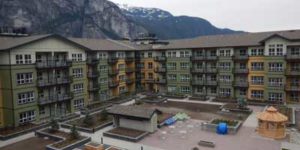 Squamish, British Columbia's newly opened Westwinds building will provide 232 affordable rental units to the town's low-income seniors.
The five-storey building features a mix of one-bedroom and one-bedroom plus den units, eight of which are wheelchair accessible. Residents will also have access to a range of amenities, including a fitness area, multi-purpose common areas, and storage space for personal items.
The Government of Canada provided more than $40 million in funding for the project. The realization of Westwinds is the result of a partnership between the federal government through the Canada Mortgage and Housing Corporation (CMHC), the province through BC Housing, the District of Squamish, Squamish Senior Living Society, and Polygon Homes.
"Polygon is proud of our involvement in the design and construction of Westwinds," says Neil Chrystal, president and CEO, Polygon Homes. "It has been a privilege for our team to work with the Squamish Senior Living Society and all levels of government to build homes that will enrich the lives of the residents. Westwinds is a great example of how public and private partnerships work to fill the needs of the community. We look forward to more opportunities like this in the future."