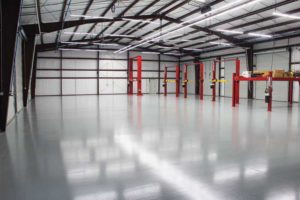 By Joe Lasko
There are some flooring chemistries that have existed in North America for more than 15 years but are rarely specified relative to their epoxy counterparts. Epoxy has become the Kleenex or Band-Aid of resinous flooring. This being said, every construction project has certain needs that cannot always be solved by only specifying one flooring type or chemistry.
So, what other resinous flooring options are available? Urethane cements, methyl-methacrylate (MMA), urethanes, and polyaspartics have already been established as viable resinous flooring solutions for a variety of challenges. Urethane cements, for example, are good for resisting thermal shock from steam, grease, and other hot contaminants, while MMA can accept a fresh topcoat at any future time without requiring mechanical preparation.
The best practice for a specifier is to partner with a manufacturer. When partnering with a resinous flooring manufacturer, there are endless combinations of system builds that can be customized to achieve the perfect system for the customer. Epoxy still belongs in certain specifications, but urethane cements, MMAs, and polyaspartics all deserve consideration based on the project's demands.
Therefore, it is important for one to understand not only the basics on what resinous flooring is, but also the different chemistries and why they each deserve consideration in specifications.
What is resinous flooring?
Resinous flooring, also known as fluid-applied or poured-in-place flooring, is common in industrial and commercial environments. Its properties allow for a smooth, non-porous, easily cleanable surface that cannot be achieved with any materials with grout or seams.
Resins can be a natural or synthetic liquid substance and sometimes have a yellowish or brown colour. Resinous flooring comprises specific resin formulas applied in several layers that bond together either adhesively or chemically. Once "cured," the layers form a hard surface which has various performance properties such as ultraviolet (UV) stability, abrasion resistance, or chemical resistance, among others.
It is important to take all environmental factors and design choices into consideration before choosing a particular type of flooring as resinous flooring is not a one size fits all product. For example, some resinous flooring finishes are inherently slip resistant while others need to be customized by the end user for slip resistance. This can be adjusted by what product is broadcasted into the floor, the size of the broadcast, and the amount of it. The following are specific considerations which should always be included in a resinous flooring design and specification.

Control the content you see on ConstructionCanada.net!
Learn More.