Specifying precast terrazzo
September 21, 2014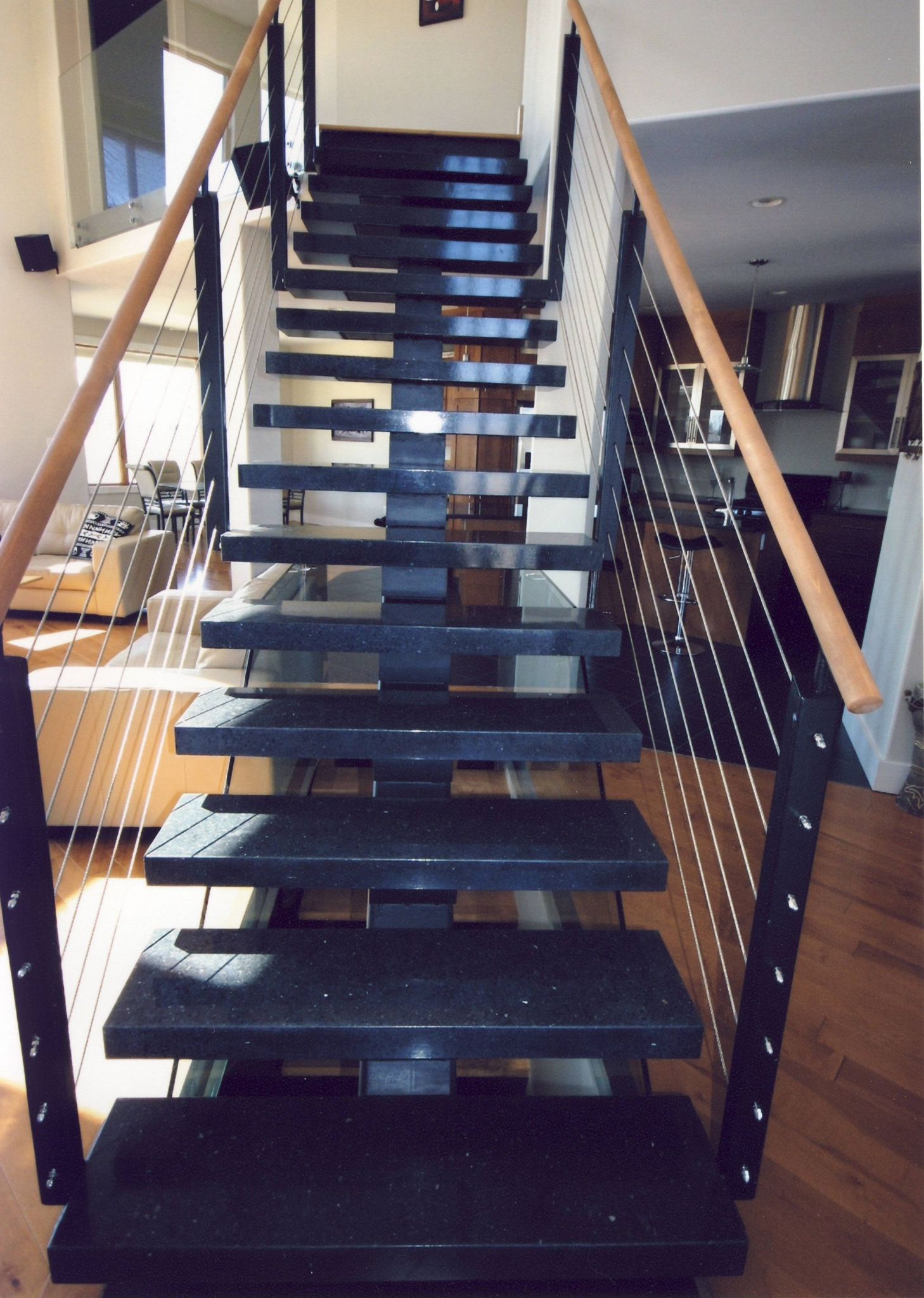 By Tony Torriano
Terrazzo has been valued for its durability and subtle beauty with an uncompromising record of performance dating back over a thousand years. From its ancient beginnings, terrazzo has been used for floors in many commercial, industrial, and institutional applications because it typically lasts the lifetime of the building. Today, many installations that are more than 30 years old are still being used and can be viewed throughout Canada.1[2]
Terrazzo, from the Italian word terrace, was discovered by Venetian workers who found another use for discarded marble remnants created from odd-sized pieces of custom marble fabrications. As a form of art, terrazzo was used in stately buildings from numerous palaces across Europe to the Vatican, and eventually brought to North America by skilled European immigrants. Now, its evolution continues with the introduction of a precast version, which offers new benefits while providing the same durability.
The precast process
Precast terrazzo has many of the same properties as traditional terrazzo, but it is made offsite. The precast product evolved from terrazzo flooring and is a composite material that is blended and poured into a prefabricated mould. After it has cured or hardened, the component is removed, and the surface is ground smooth with mechanical equipment. It consists of marble, quartz, or granite aggregates, glass, or other suitable particles commonly referred to as 'chips' that are bonded together with cement or a polymeric compound, such as epoxy.
Since precast terrazzo elements are made in a controlled, easy-to-work-in environment, and often employ similar mechanical equipment to finish marble or granite, the final surfaces offer excellent quality and appearance. Precast terrazzo offers excellent durability because it is a composite that consists of the same material, binder, and aggregates, throughout the thickness of the element—as the surface wears, the same particles and binder are exposed.
Colour options for precast terrazzo are virtually unlimited. This is because the binder that holds all aggregate particles together can be pigmented to almost any colour. Further, with the ever-increasing use of epoxy as the binder, the spectrum of colour and accuracy is unlimited. Nature's palette of colour is available from marble aggregates that are sourced within North America or Europe. Other aggregates, like granite or washed screened and graded stones, can also be incorporated into precast terrazzo elements.
Recycled materials like glass, porcelain, or concrete can be added to terrazzo elements in varying proportions. These recycled materials are from pre- or post-consumer sources that are washed, sorted, screened, and available in various mesh sizes. Fine particles from these materials can also replace fine manufactured particles used in terrazzo elements.
The use of glass allows the addition of unique or bold colours for accents or special effects that are unavailable with natural marble aggregates. Crushed sheet mirror or manufactured mirror particles in different colours may be used for sparkle or to add depth to a terrazzo surface. Nacre (i.e. mother of pearl), another natural material, can also be added to provide special effects. The combination of new and recycled materials allows for virtually any design or pattern.
Custom fabrications that utilize special shapes, curved surfaces, or larger thickness are possible with precast terrazzo elements since forms may be constructed with limitless options. In comparison to using flat stock to construct design elements, precast terrazzo offers the ability to make almost any concept reality while maintaining reasonable costs.
Applications available
There are many uses for precast terrazzo elements. Some of the common products include:
floor base;
shower receptors;
wall panels;
window sills;
benches;
fountains;
countertops; and
stairs.
Precast floor bases with an integral cove radius or straight profile are increasing in popularity as they are more convenient and faster to install. Projects where epoxy terrazzo is used can be excellent candidates for precast floor base. Precast terrazzo floor base can be manufactured to match the main floor colour, or it can be in a different complementing colour to the floor surface to add esthetic appeal.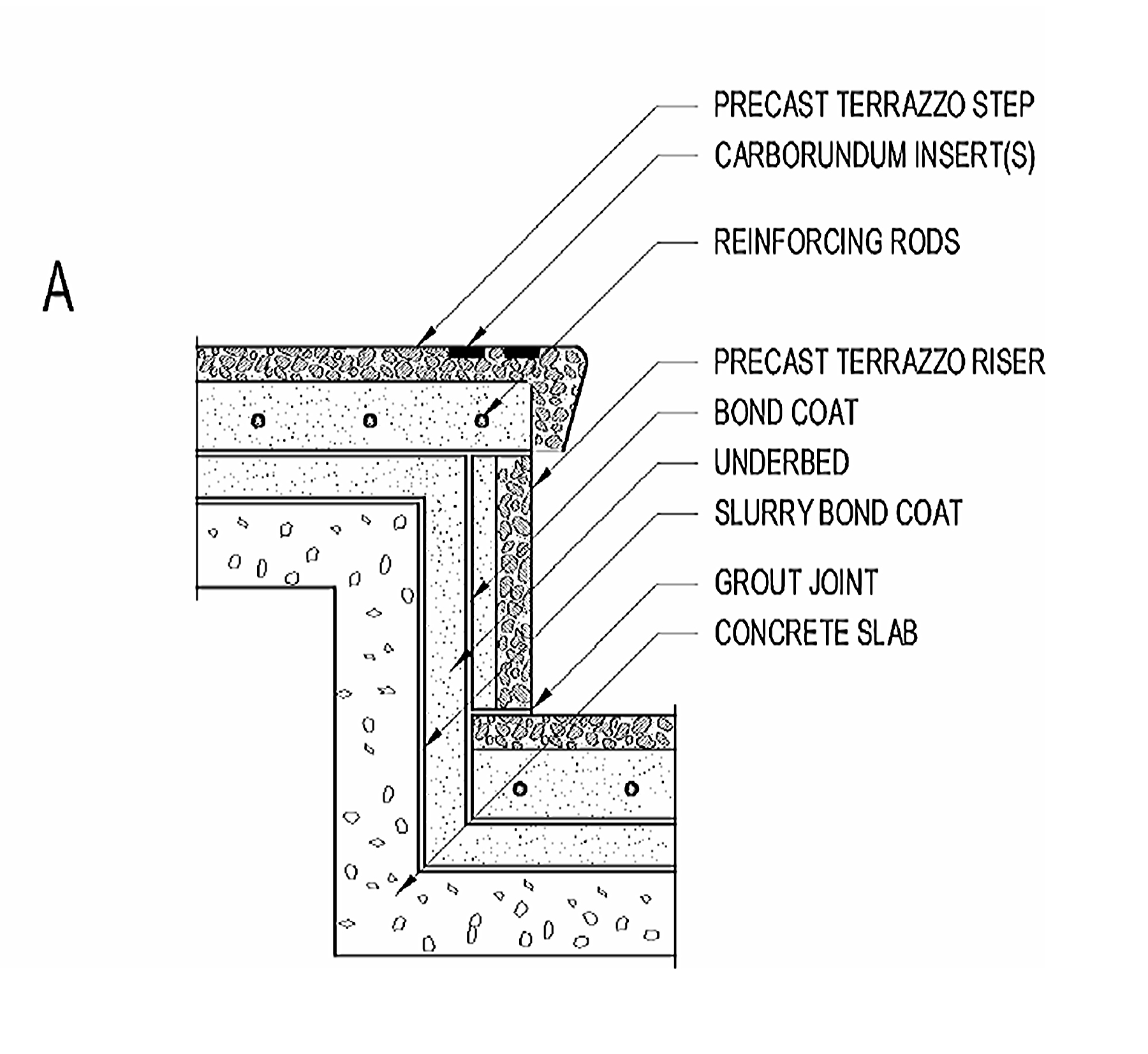 One of the most common precast components is stairs. There are numerous styles of stairs that can be constructed in terrazzo that include:
self-supporting (structural);
treads only;
tread and riser combination; and
tread with different material riser.
Non-skid details can be added to stair treads that include abrasive aggregates or metal strips inserted on the tread surface. Landings can also be precast into various sizes to suit project requirements with the same components. With the combination of coated or stainless steel and precast terrazzo stair elements, grand staircases can be created.
Installation
Installation of precast elements varies depending on the composition of the element (either cement or epoxy with aggregates) and the type of construction being implemented. Fastening systems vary based on the substrate type or construction. If the substrate is concrete, cement precast elements can be installed over fresh under-bed materials that consist of bond coat and latex modified cement mortar. The thin-set method can also be employed to bond epoxy or cement precast elements to concrete substrates with the appropriate latex modified cement mortar or epoxy mortar. When steel substrates are used, precast elements are installed with epoxy mortars and or fastened with pins and/or anchoring systems mechanically fastened or welded into place.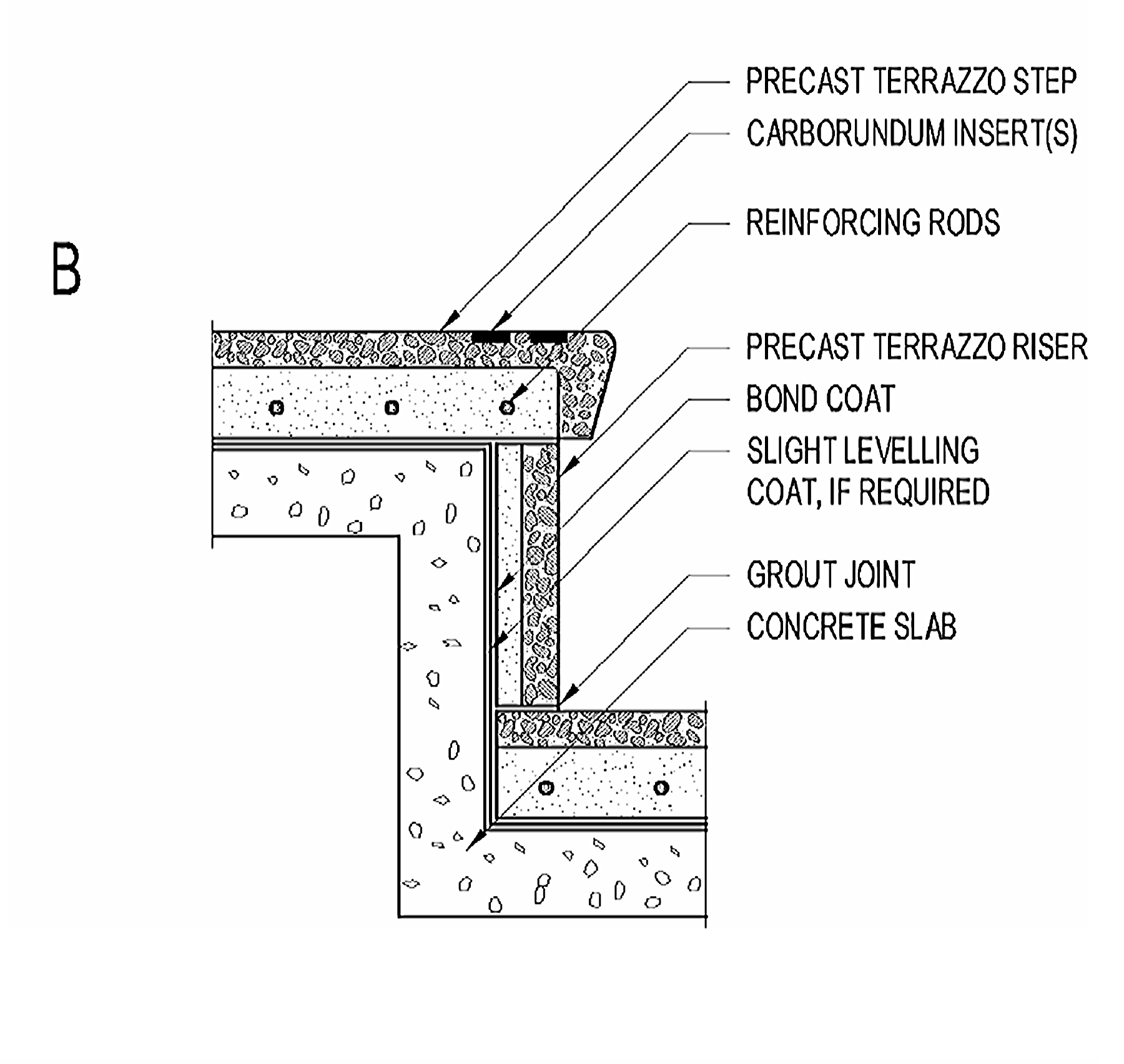 When pre-finished elements, like coved floor bases, are part of a project, they can reduce the installation time significantly compared to cast-in-place equivalents as minimal grinding and polishing is necessary onsite. Further, the precision and appearance of these items can be much better as well. During the installation of a precast coved floor base, it is much easier to comply with local safety regulations compared to cast-in-place floor base. As a result, the use of these items has become very popular on projects that utilize this detail as it is more convenient, safer, faster, and much better quality compared to onsite fabrication.
A typical installation of a precast cove base involves the placement of the precast element after surface preparation and prior to the application of the terrazzo floor. Epoxy precast base is bonded to the wall and floor surface using an epoxy adhesive compatible to, or in some cases the same as the binder used to cast the precast element.
Each component, which can be up to 2 m (6 ft) in length, is first pre-fitted into place and mitre cut for interior/exterior corners using a power saw if required or simply butt-jointed. The thin-set method, employing an epoxy mortar, is then used to bond the precast element to the substrate. After the epoxy mortar is dry (typically the next day), the terrazzo floor is installed up to the precast base followed by grinding, polishing, and sealing of all surfaces.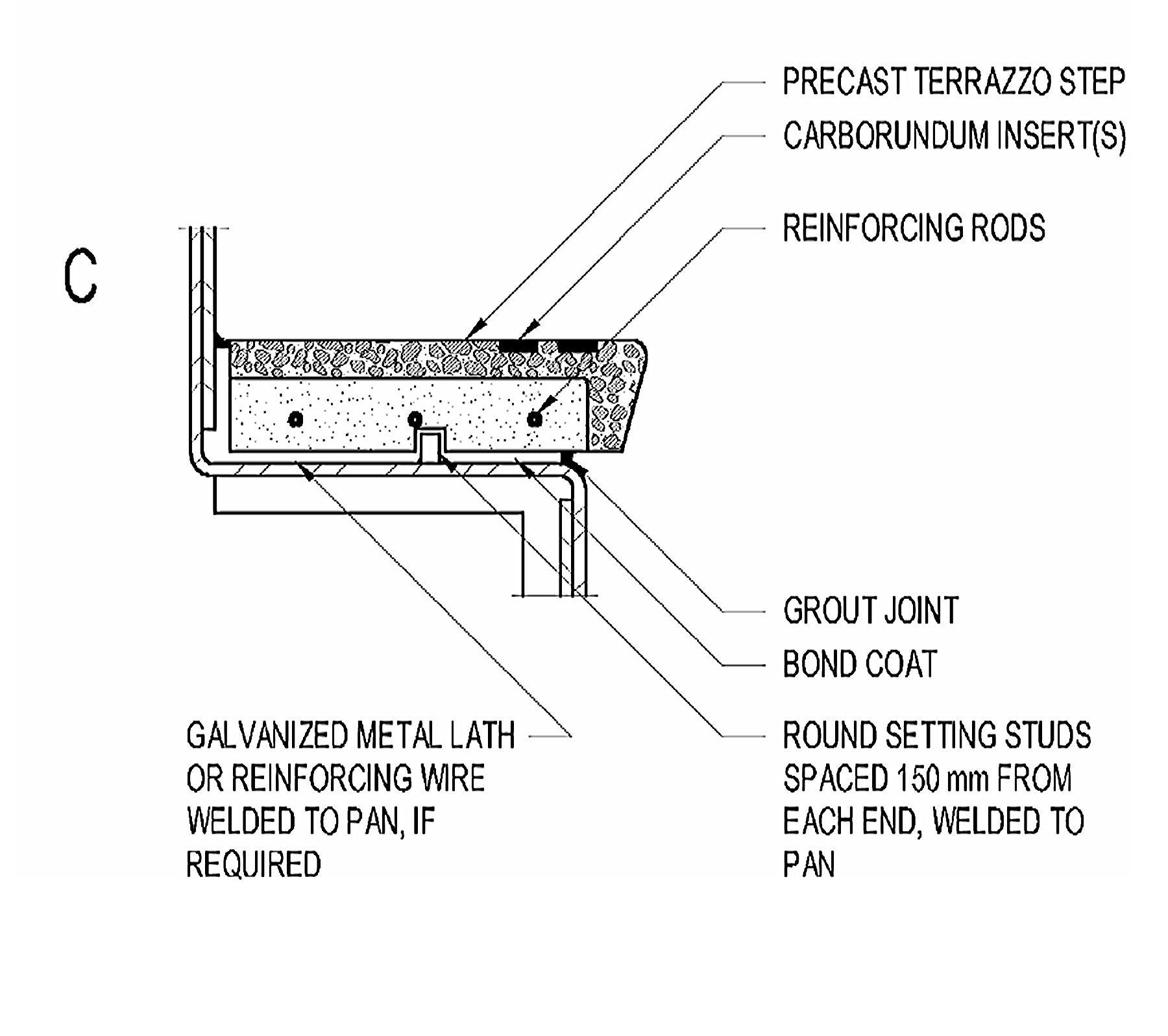 Conclusion
The Terrazzo, Tile, and Marble Association of Canada (TTMAC) is the voice of the country's hard-surface industry and publishes a Terrazzo Specification Guide containing an outline for proper use, design, specification, and installation of precast terrazzo elements. This guide is an excellent resource for contractors, owners, and the design community that must be used in combination with local building code requirements.
Although the terrazzo trade has been around for many years, it has experienced a cyclic trend from heavy to low use on projects across Canada. The combination of durability and low maintenance has led to a rebirth in the use of terrazzo over the past 15 years. In fact, the demand for terrazzo has increased in many markets, from hospitals and airports through to retail and commercial buildings. As a result, this has also expanded the need and use of precast elements for various applications such as floor base and stairways. Terrazzo suppliers and manufacturers continue to promote the use of terrazzo in Canada and are a great resource of information. Professional terrazzo contractors are located across Canada that possess the skills, know-how, and specific equipment to successfully install terrazzo on any project.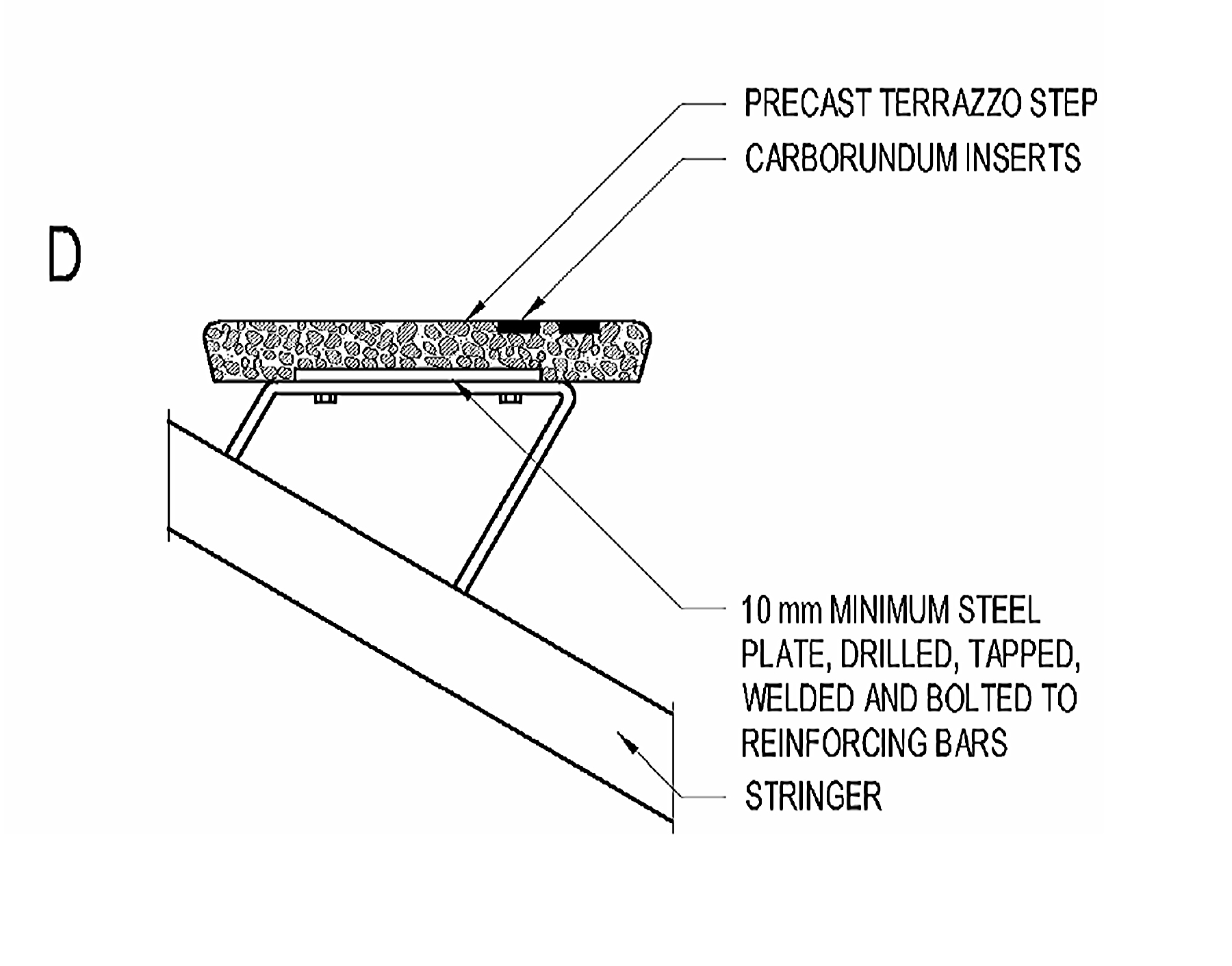 Notes
1 For more, see this author's web piece for the Terrazzo, Tile, and Marble Association of Canada (TTMAC) at www.ttmac.com/en/about-ttmac/29.html[6]. (back to top[7])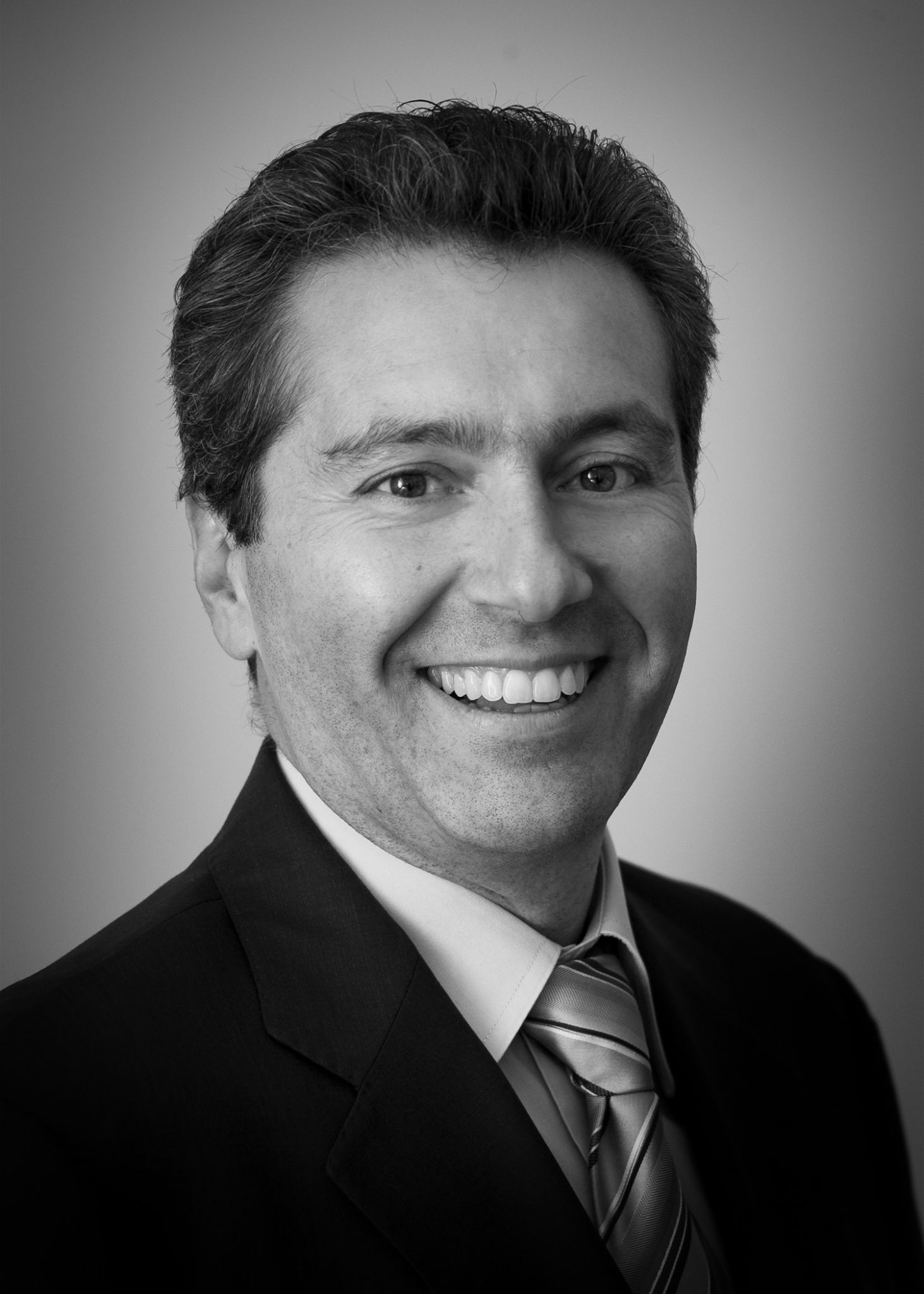 [8]Tony Torriano has more than 25 years of experience in polymer flooring, terrazzo, wall coating, and parking garage waterproofing systems. He is a past-president of the Terrazzo, Tile, and Marble Association of Canada and a former chairman for CSC's Toronto Chapter. Torriano also chaired the Terrazzo Installation Manual Technical Research Committee. He can be reached at ttorriano@hotmail.com[9].
Endnotes:
[Image]: http://www.constructioncanada.net/wp-content/uploads/2014/10/Franklin-Terrazzo-Steps.jpg
1: #note1
[Image]: http://www.constructioncanada.net/wp-content/uploads/2014/10/Precast-terrazzo-Illustration-A.jpg
[Image]: http://www.constructioncanada.net/wp-content/uploads/2014/10/Precast-terrazzo-Illustration-B.jpg
[Image]: http://www.constructioncanada.net/wp-content/uploads/2014/10/Precast-terrazzo-Illustration-C.jpg
www.ttmac.com/en/about-ttmac/29.html: http://www.ttmac.com/en/about-ttmac/29.html
top: #note2
[Image]: http://www.constructioncanada.net/wp-content/uploads/2014/10/Tony-Torriano-Picture.jpg
ttorriano@hotmail.com: mailto:%20ttorriano@hotmail.com
Source URL: https://www.constructioncanada.net/specifying-precast-terrazzo/
---