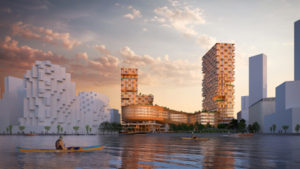 Sidewalk Labs has dropped the Quayside project, a new kind of mixed-use, complete community planned for Toronto's waterfront, due to the global economic uncertainty caused by the COVID-19 pandemic.
Sidewalk Toronto would have combined forward-thinking urban design and new digital technology to create people-centred neighbourhoods that achieve precedent-setting levels of sustainability, affordability, mobility, and economic opportunity. The project was launched in October 2017 as a partnership between Sidewalk Labs and Waterfront Toronto.
"As unprecedented economic uncertainty has set in around the world and in the Toronto real estate market, it has become too difficult to make the [5-ha] 12-acre project financially viable without sacrificing core parts of the plan we had developed together with Waterfront Toronto to build a truly inclusive, sustainable community," Sidewalk Labs said in a statement.
"While this is not the outcome we had hoped for, Waterfront Toronto offers thanks and appreciation to Sidewalk Labs for its vision, effort, and the many commitments that both the company and its employees have made to the future of Toronto," said Stephen Diamond, board chair of Waterfront Toronto.