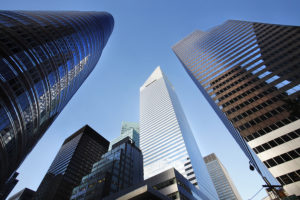 New York City mayor Bill de Blasio plans to introduce a bill to ban new construction of glass skyscrapers as part of his endeavour to reduce citywide greenhouse gas (GHG) emissions by 30 per cent.
When announcing his Green New Deal on April 22, the mayor said all glass façade skyscrapers are "incredibly inefficient" because much of the energy escapes through the glass. He added buildings are the number one cause of GHG emissions in New York.
De Blasio said the bill would require existing glass buildings to be retrofitted to meet new rigid carbon-emissions guidelines.
The mayor's Green New Deal effort also involves plans to power all of the city's operations with clean electricity sources like Canadian hydropower, mandatory organics recycling, and the phasing out of city purchases of single-use plastic food ware and processed meat.
Earlier this spring, the city council passed the Climate Mobilization Act, a set of 10 bills responding to targets set out in the Paris Climate Agreement. Essential to the act is a requirement that many of the city's buildings slash their carbon emissions beginning in 2024, reducing overall by 30 per cent by 2030.
The act, unofficially named 'Dirty Buildings Bill,' will require 50,000 of the city's buildings to cut emissions by 30 per cent by 2030 through the installation of new windows, insulation, and other retrofitting procedures. The law would apply to buildings over 2323 m2 (25,000 sf), which account for half of all building emissions despite comprising two per cent of total buildings in the city.
In response, the American Institute of Steel Construction (AISC) said there are a number of factors that determine the environmental impacts of each of the iconic buildings in the most famous skyline in America. The activities of a building's occupants and other processes associated with operating a modern skyscraper (such as heating, cooling, and lighting) generate the vast majority of a building's GHG.