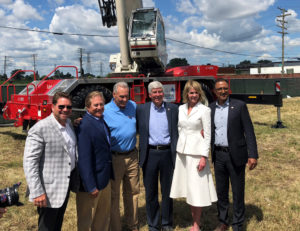 After more than seven years of delays, construction has begun in Detroit, Michigan, on the Gordie Howe International Bridge. The $4.5-billion project will connect Windsor, Ont., to Detroit, creating a new option for travel between Canada and the United States across the Detroit River at a location 3.2 km (2 mi) downstream from the current Ambassador Bridge.
"This is an exciting day for Detroit, Windsor, Michigan, Ontario, the United States, and Canada," said Rick Snyder, Michigan governor. "After more than seven years of hard work, today we broke ground on what will be a thriving legacy named for a legend. Gordie Howe represented the best of Canada and the United States."
In September, the Windsor-Detroit Bridge Authority, the agency with project oversight, is expected to award the construction contract and hold an official groundbreaking at the Windsor terminus. Major construction is expected to begin at this time.  Early work on the Canadian port of entry began in 2015, with the construction of a perimeter access road, utility relocation, and the placement of fill, grading and drainage.
"The new Gordie Howe International Bridge is one of the largest construction projects in Detroit and will bring hundreds of new jobs to the region," said Rob Chiles, president of Detroit-based Alta Equipment–Construction. "From skilled labour to material suppliers and support personnel, this project represents a massive undertaking and a massive opportunity for Michigan."
During construction, it is expected more than 100 pieces of heavy equipment will be required to facilitate the work. Chiles and others from Alta Equipment, including company spokesperson and former Detroit Red Wing Mickey Redmond, were invited to attend the official groundbreaking ceremony, along with Amarjeet Sohi, federal minister of natural resources, Snyder, and Kelly Craft, the United States ambassador to Canada.
Construction is expected to take four to five years to complete, with the opening of the bridge slated for 2022 or 2023.