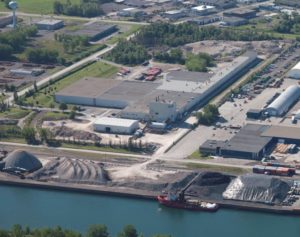 Saint-Gobain, through its subsidiary CertainTeed, plans to invest $91 million to upgrade its Montreal wallboard manufacturing facility to become the first zero-carbon drywall plant in North America.
The project is estimated to reduce the plant's carbon emissions by up to 44,000 t (48,501 ton) per year, the equivalent of removing 9500 cars from the road.
All production equipment powered by natural gas will be upgraded to newer systems running on renewably sourced electricity from Hydro-Quebec. These upgrades will allow manufacturing operations to achieve carbon neutrality. They will also reduce the site's energy usage by 30 per cent, creating one of the most energy-efficient wallboard plants in the world.
Additionally, the upgrades will increase the plant's production capacity by up to 40 per cent, allowing CertainTeed to better serve the construction industry in Quebec, Atlantic Canada, and eastern Ontario.
The project aligns with Saint-Gobain's new global "Grow and Impact" strategy, which includes plans to reduce its energy consumption and emissions. The company has pledged to achieve carbon neutrality by 2050.
Construction on the project is scheduled to begin in the summer 2023. The new equipment will come online in late 2024.