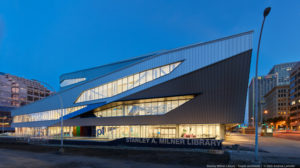 The Edmonton Public Library (EPL), Alta., is celebrating the grand opening of its revitalized Stanley A. Milner Library.
The $84.5-million renewal project was approved by the Edmonton City Council in 2014, with contribution from the City of Edmonton and a commitment from EPL to contribute $10 million through community fundraising. The Canada and Alberta governments contributed $4 million in joint federal-provincial funding for the revitalization in May 2018.
"The new Stanley A. Milner Library will become a focal point for the community and culture in downtown Edmonton. This library will bring together all members of the community, and provide a modern and accessible space to connect with friends, family, and community groups while creating a cultural hub that Edmontonians can be proud of for generations to come," said the Honourable Catherine McKenna, Minister of Infrastructure and Communities.
The revitalized Milner Library includes a children's library three times the former size, 929 m2 (10,000 sf) of Makerspace, Fabrication Lab, multi-storey interactive digital wall, Thunderbird House (Indigenous gathering space), Gamerspace, a new Fresh Finds collection featuring recommendations from local Edmonton celebrities, over 150,000 items to borrow, and more.
"We have built cathedrals of creativity, knowledge, and inclusion in every part of our city. As you travel from library to library you cannot help but be a proud Edmontonian, and the Stanley A. Milner Library continues that tradition," said Mayor Don Iveson. "The library is a place where everyone is welcome, and with the inclusion of Thunderbird House and additional outreach offices at the downtown Library, Edmontonians have a place to gather, learn, and feel a sense of community and connection to one another."