Global design firm Populous and esports and entertainment organization OverActive Media have revealed plans for an iconic performance venue in Toronto.
The nearly $500-million project, which includes a theatre-style entertainment venue and hotel complex, will be the first new sports or entertainment venue built in Toronto since the BMO Field in 2007 and promises to be an unparalleled experience for fans and performance artists alike.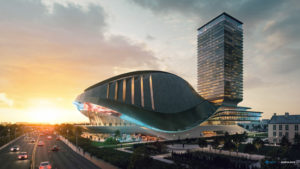 Located in the heart of the historic Canadian National Exhibition (CNE) grounds, the facility plan is a strategic extension of the master plan for the region previously established by city officials. Positioned on 1.6 ha (4 acre) across from the Ontario Place lands, the venue is expected to become the epicentre for what is starting to emerge as Toronto's future meeting place for sports, media, and entertainment. This privately financed, purpose-built venue, will offer premiere music artists and entertainment acts of the world a new place to call home in Toronto.
"We are building a world-leading, 21st century sports media and entertainment company and this best-in-class performance venue will be the chosen home for a new generation of fans that think differently about their entertainment choices and experiences," said Chris Overholt, OverActive's president.
The facility plans to host more than 200 events a year, driven primarily by music and entertainment bookings. It will also serve to attract major city-wide conventions, corporate events and product launches, award shows, and a full slate of esports events increasing over time.
Conceived by Populous, the building composition delivers an iconic architectural presence along the Toronto waterfront and reflects a modern expression of a new age theatre for sports and entertainment.
"The design of the theatre was neither conceived as a sports arena nor an opera house, rather, a new typology that straddles the two—a state-of-the-art performance venue. The theatre architecture creates a merger of the old and the new," said Jonathan Mallie, senior principal at Populous. "The old channeling the rhythmic repetition of historic landmark theatres, and the new, integrating the progressive forms of avant-garde 21st-century design. In combination, a symbiotic balance delivers a one-of-a-kind theatre experience, unique to Toronto and the world."
The performance venue is projected to be completed in 2025.