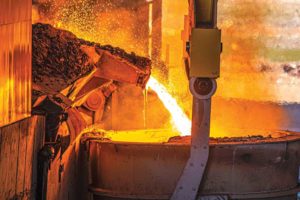 This includes exploring substitutes for traditional fossil fuels for driving high-heat processes, such as biomass-based fuels, or hydrogen-based production.10 The Canadian steel sector has an aspirational ambition to produce net zero emissions steel by 2050 and has already voluntarily invested to reduce energy consumption and GHG emissions, achieving a 31.5 per cent reduction in absolute emissions in 2016.11 No doubt, more innovation in these markets and production technologies is a critical part of the decarbonization pathway.
A future with lower carbon steel starts with specifying submittals of EPDs for reinforcement products. Project teams should prioritize lower carbon products, like composite reinforcement or EAF rebar, in the earlier stages of planning and communicate with supply team partners to stay informed on best practices.
Notes
1 Refer to Concrete: Microstructure, Properties, and Materials, 2nd ed., by P. Mehta and P. Monteiro, published in 2006 by McGraw-Hill.
2See "Steel," published by Carbon Smart Materials Palette. For more information, visit materialspalette.org/steel.
3 Read "GFRP, Glass Fiber Reinforced Polymer," from An Introduction to Composite Materials by Derek Hull, published in 1992 by Cambridge University Press. For more information, visit princeton.edu/~maelabs/mae324/glos324/gfrp.htm.
4 Refer to ASTM D7957, Standard Specification for Solid Round Glass Fiber Reinforced Polymer Bars for Concrete Reinforcement.
5 Consult to CAN/CSA-S806-12 (R2017), Design and Construction of Building Components with Fibre-Reinforced Polymers. For more information, visit ictturkey.com/assets/images/can.csa.s806-02.pdf.
6 Refer to ACI 440.6-08(17)(22), Specification for Carbon and Glass Fiber-Reinforced Polymer Bar Materials for Concrete Reinforcement.
7 Consult "What is Rebar? Types and Grades of Steel Reinforcement," published by The Constructor. For more information, visit theconstructor.org/practical-guide/steel-reinforcement-types-grades/24730.
8 See "Basic Oxygen Furnaces vs. Electric Arc Furnaces," by Chris Deziel, published by Hunker. For more information, visit hunker.com/13401389/basic-oxygen-furnaces-vs-electric-arc-furnaces.
9 Read "The Urgency of Embodied Carbon and What You Can Do About It," by Ed Whalen, published on February 27, 2020, by CSSBI. For more information, visit cssbi.ca/blog/article-the-urgency-of-embodied-carbon-and-what-you-can-do-about-it.
10 Refer to "Decarbonization Challenge for Steel," by Christian Hoffmann, Michel Van Hoey, and Benedikt Zeumer, published on June 3, 2020, by McKinsey & Company. For more information, visit mckinsey.com/industries/metals-and-mining/our-insights/decarbonization-challenge-for-steel.
11 Consult Canadian Steel Industry Energy & Greenhouse Gas Emissions Intensity, Technology and Carbon Reduction Roadmap, published by Canadian Steel Producers Association, canadiansteel.ca/files/resources/Golder-Report-CSPA-NRCan.pdf.
Authors

Chris Bennett, iSCS, CDT, is CEO of a North American concrete consultancy that provides owner and designer representation, helping oversee documents and installation in the development of sustainable concrete solutions, as well as risk and schedule reductions. Bennett has provided input to the National Research Council Canada for National Master Specification (NMS) content. His firm is currently working on a number of commercial projects across North America in the logistics, mixed-use, and residential markets.

Aurora Jensen is a project manager and materials specialist in Brightworks' office in New York, where she specializes in embodied carbon measurement and reduction strategies. She also has experience in operational carbon modelling and evaluating passive strategies, and helps clients link operational and embodied carbon considerations and evaluate trade-offs. Jensen currently sits on the steering committee for the Carbon Leadership Forum in New York City and teaches environmental design as a part-time faculty member at Parsons at The New School. Jensen received her masters in design studies in energy and environment with distinction from the Graduate School of Design at Harvard University. She can be reached at aurora.jensen@brightworks.net.

Control the content you see on ConstructionCanada.net!
Learn More.