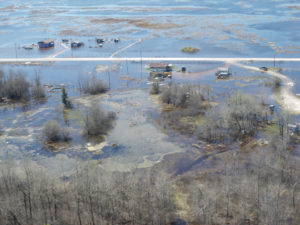 The federal government, the government of Manitoba, and Lake St. Martin First Nation are working together to bring home residents displaced by severe flooding in 2011.
Recently, 190 homes were completed in the newly rebuilt Lake St. Martin community. The housing project represents an investment of $49.5 million, which has been cost-shared equally between Canada and the Province of Manitoba.
The community, which has been rebuilt above the 2011 flood levels, has already completed construction on vital infrastructure including a public works garage, a fire hall, and water and sewage treatment facilities.
A new K-12 school is expected to later this year. This project is supported by a $19.7 million investment from the federal government. Construction also continues on an additional 130 homes, which are scheduled to be completed by November 2019.
"Our people have been through so much in the past seven years. It is comforting to know some of our members have returned home. However, we still have over 300 people wanting to return to our traditional lands. Much work, negotiations, and planning must be done to see the next wave of members return home in the fall of 2019. We look forward to the continued work with our various partners to ensure completion of Operation Return Home," said Chief Adrian Sinclair, Lake St. Martin First Nation.