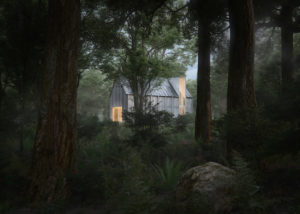 Designed by Montréal-based Appareil Architecture the Beside Cabins in Lanaudière, Qué., will provide an outdoor destination at the juncture of nature and culture.
The cabins will be tucked away on a 507-ha (1254-acre) property, of which, 374 ha (900) acres is permanently protected, undeveloped land. At the heart of the project is an expanse of untouched forest, where the parkland and two lakes have been preserved and maintained by the land's former owner.
Inspired by the cabins of the pioneers and fishermen's boathouses of frontier villages, the Beside Cabins blend minimalist design and outdoor culture, embracing nordicity and heritage. They will be built using a sustainable approach and will be integrated into its surroundings. Each private land parcel has 75 planned cabins which will cover between 8083 m2 (87,000 sf) and 20,206 m2 (217,500 sf) of forest.
The cabins are designed as functional, versatile living spaces that can accommodate a wide range of people. It offers owners and renters a vast terrain to explore, including lakes, a hidden forest library, shared docks, a natural stage for canoe concerts, a music studio, and a creative space.
"Beside Cabins are a peaceful haven away from everyday noise, crowds, traffic, and distractions," said Jean-Daniel Petit, president of Beside. "It is the perfect place for friends, colleagues, partners, and families to get away, come together, and build meaningful connections."