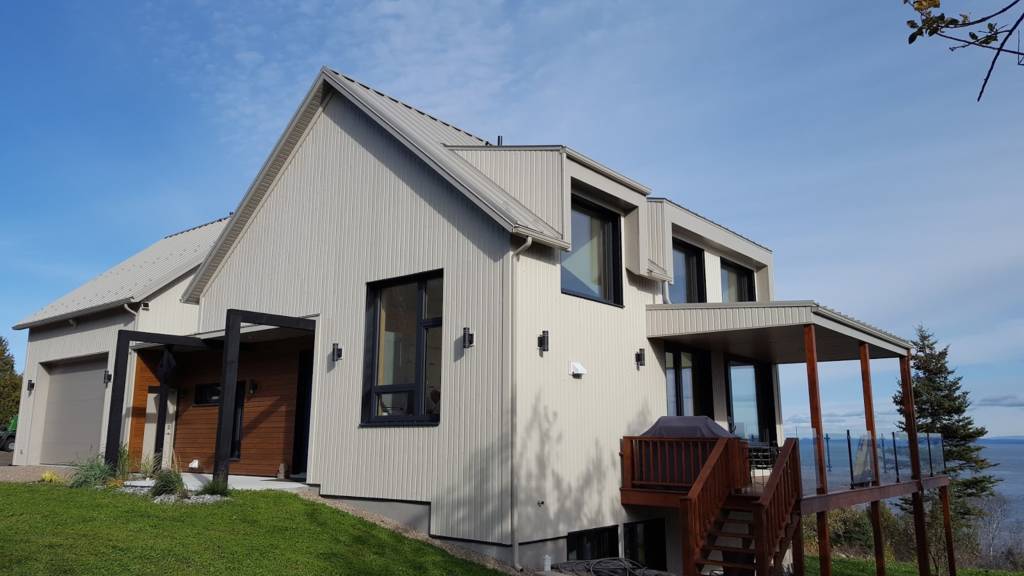 L'Heure Bleue in Charlevoix, Que., is the second home in Canada to achieve Platinum status under Canada Green Building Council's (CaGBC's) Leadership in Energy and Environmental Design (LEED) certification. Guided by Québec LEED organization Écohabitation, indoor and outdoor construction of the project focused on ecological awareness, sustainable materials, and environmental management.
Situated on more than 0.8 ha (2 acres) of property along the St. Lawrence River, the 218-m2 (2350-sf) modern farmhouse revival was the vision of baby boomers Pierre Chevrier and Suzanne Rhéaume, designed by Québec firm Tergos. Awarded certification under LEED v4 Building Design and Construction (BD+C) Homes, the ecologically responsible design features adaptive elements, which can be altered to suit the changing mobility and accessibility needs of the homeowners.
"LEED v4 convinced me that my home would be adapted not only to my personal needs for a healthy lifestyle as an active senior, but also as a worthwhile investment I would not regret leaving for our children and grandchildren," said Rhéaume. "This was a self-build project that became a passion of ours as we networked, researched, and rolled-up our sleeves. Achieving the Platinum level is very rewarding, but what is even more gratifying is knowing that this home was a grassroots endeavour. It was built by someone's mom and dad, grandma and grandpa."
The home's features include:
a highly-insulated, airtight building envelope;
an air exchanger and opening windows on the river-facing side of the house;
energy efficient appliances;
light-emitting diodes (LEDs) and natural lighting;
rainwater harvesting and well water usage; and
a rain garden, xeriscaping, food forest, and permaculture.
To read a detailed project case study, click here.