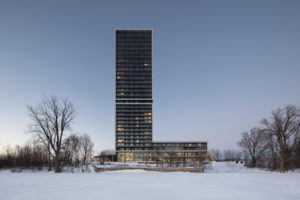 Montréal-based ACDF Architecture has unveiled Panorama, a 30-storey retirement complex on the banks of Rivière des Prairies in Sainte-Dorothée, Qué.
The building's east and west façades, composed of precast concrete panels in three different shades, create a sense of movement through staggered window positioning from one floor to another.
To the north and south, Panorama is marked by linear balconies, concrete paneling, and darkened windows, providing further contrast to the clear windows of the east and west façades.
Wrapped in anthracite granite, the tower is anchored by a two-storey podium housing common spaces and activities, including a pool, spa, and gym.
The walls separating Panorama's common spaces include 2 m (6 ft) of glass partitioning. Rich materials and floor-to-ceiling windows add contemporary touches within the podium.
As opposed to Panorama's exterior focus on contrasts, the tower's interior is organized and designed around the concept of seamless flow. Its rounded corners and fluidity provide stark contrast to the tower's sharp, rectangular appearance. A horizontal, double-height atrium serves as the podium's gateway. Natural wood flows from the ceiling into the walls, while organic shapes, two-tone stones, gradient carpeting, and blue velvet drapes harmonize with the adjacent river and shoreline.