Québec college wins technology award from ASHRAE
January 18, 2016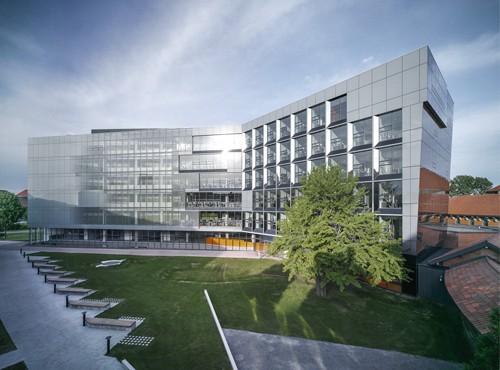 The Anne-Marie Edward Science Building at John Abbott College in Sainte-Anne-de-Bellavue, Québec was the only Canadian project to win a Technology Award from the American Society of Heating, Refrigeration, and Air-conditioning Engineers (ASHRAE).
The awards recognize outstanding achievements by members who have successfully applied innovative building design. The designs must incorporate ASHRAE standards for effective energy management and indoor air quality (IAQ). The winners are selected from entries earning regional awards.
The six-storey Anne-Marie Edward Science Building was named after a John Abbott science graduate who was also a victim of the 1989 shooting at École Polytechnique. Edward had been pursuing a degree in engineering and the community felt through engineering, the pavilion demonstrated how people are essential to environmental sustainability using applied knowledge and technology.
The building diversifies energy with the use of geothermal walls, electrical heating and cooling, natural gas hot water heating, and solar preheating. Water consumption is reduced by low-flow plumbing fixtures and resources are maximized through reuse and recuperation, such as:
reuse of return air as compensation air in laboratories;
reuse of coil condensation water to humidify exhaust air;
recuperation on both general and laboratory exhausts;
recuperation through heat pump extraction and storage in stratified tanks; and
recuperation of rainwater and fan-coil condensation water.
The building's energy use is 45 per cent lower than the baseline case and 10 per cent lower than the proposed simulation.
For more on this project, see the magazine's December 2015 cover story here.[1]
Endnotes:
here.: http://www.constructioncanada.net/exploring-john-abbott-colleges-latest-building/
Source URL: https://www.constructioncanada.net/quebec-college-wins-technology-award-from-ashrae/
---