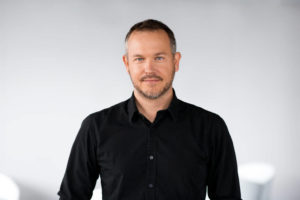 Guillaume Martel, architect, and partner at Montreal's architecture practice, Provencher_Roy, has been designated 2022 Leadership in Energy and Environmental Design (LEED) Fellow by the Green Business Certification Inc. (GBCI), for demonstrating mastery of the technical application of the widely used global green building rating system.
Martel is among 20 professionals representing leadership within the green building community worldwide. He has been an integral part of the design and construction team at Provencher_Roy, tasked with developing the sustainability aspect of highly complex projects. His "look beyond LEED" approach contributed to highly sustainable, award winning, institutional projects such as the first LEED Museum in Quebec (the Musée national des beaux-arts du Québec); the new Hélène-Desmarais Pavilion at HEC Montréal; and one of the largest deep green retrofits in Canada, Place du Portage 3 in Gatineau.
Martel has been actively involved in the promotion of sustainability in the built environment, especially regarding the evolution of the LEED rating system with the Canada Green Building Council (CAGBC).
LEED Fellows are nominated by their peers and must have made at least a decade of exceptional impact on system and hold an active LEED Accredited Professional (AP) credential, among other requirements. The evaluation process includes an extensive portfolio review and is carried out by the LEED Fellow Evaluation Committee and supported by GBCI.
The LEED Fellow program was established in 2011 to recognize outstanding LEED APs who have demonstrated exceptional impacts with LEED, in key mastery elements related to technical knowledge and skill; a history of exemplary leadership in LEED; significant contributions in teaching, mentoring, or research with proven outcomes; and a history of highly impactful commitment, service, and advocacy for LEED.
"Green building professionals drive progress and innovation in the built environment and make great contributions to the green building community," said Peter Templeton, president and CEO of GBCI and U.S. Green Building Council (USGBC). "LEED Fellows are recognized for their exceptional work in helping ensure our buildings and spaces are healthy, resilient, and sustainable. Their commitment to LEED will continue to help us shape a better living standard for all."
The 2022 LEED Fellows will be recognized at this year's Greenbuild International Conference & Expo in San Francisco, CA, on Nov. 1.