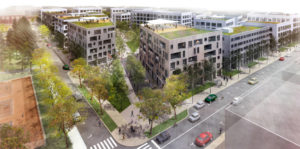 The Québec government has awarded $20.5 million to the City of Montréal for green infrastructure projects in the Technopôle Angus neighbourhood. This contribution will help meet the total costs of green infrastructure, estimated at nearly $40 million, with the balance funded by Société du patrimoine Angus.
Construction on affordable residential units as well as a mixed-use office and retail building will begin this September.
Green infrastructure components of the Technopôle Angus neighbourhood will include a runoff management system designed to store and filter 95 per cent of rainwater over the course of a year and reduce the consumption of drinkable water used in building facilities by 40 per cent.
Additionally, an energy loop will be shared between all planned buildings for recovery and transfer of energy between users of heating and cooling systems, reducing building energy consumption by 40 per cent and emitting 26 per cent less greenhouse gas (GHG) than a conventional project without heat exchange.
Another facet of infrastructure work is the environmentally friendly remediation of contaminated soils.
At an estimated cost of $250 million, the Technopôle Angus green neighbourhood will include:
high-quality public spaces and amenities such as a wide tree-lined pedestrian street, urban maple forest, public squares, and greenbelts;
360 residential units (80 per cent social and affordable housing);
45,000 m2 (484,376 sf) of office space for more than 1500 new workers;
3000 m2 (32,291 sf) of commercial space for some 20 local businesses;
an elementary school and two new public daycare centres; and
550 underground parking spaces.
The project is designed to achieve platinum certification under the Leadership in Energy and Environmental Design–New Development (LEED-ND) v4 program. The project has already won many design awards including the Canadian Urban Institute's 2015 Grand Prize and the Royal Architecture Institute of Canada's (RAIC's) 2016 National Urban Design Award.