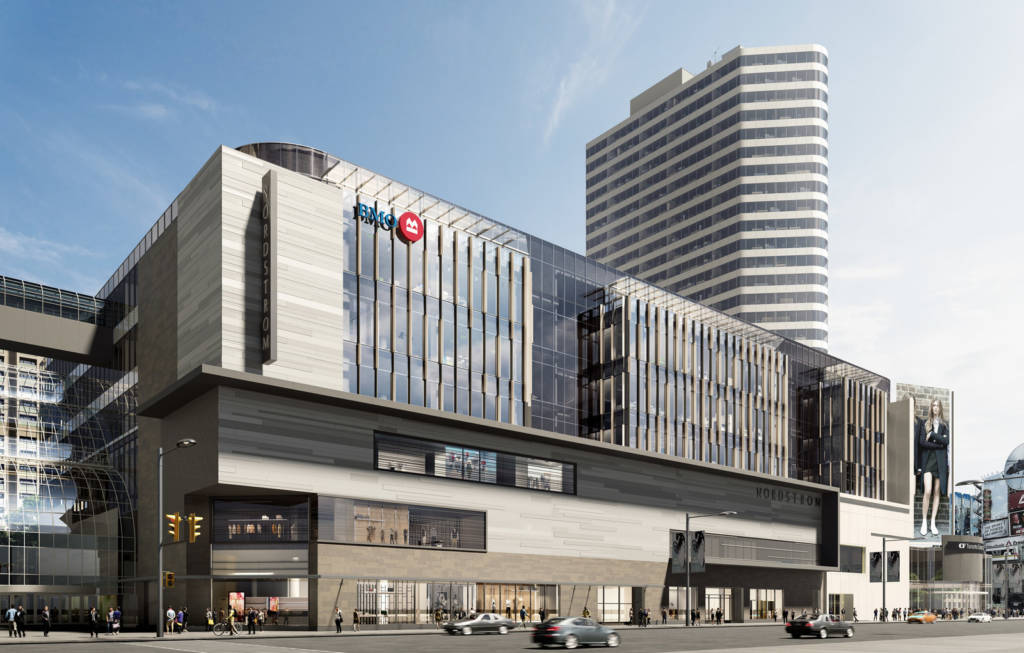 BMO Financial Group announced plans to revitalize the commercial space at Cadillac Fairview (CF) Toronto Eaton Centre, transforming the city's Yonge and Dundas Square into an urban work campus. The project, known as the BMO campus, will be built in the space previously occupied by Sears.
The 32,516-m2 (350,000-sf) development will feature a four-storey atrium, a variety of collaborative work areas, open floorplans, and access to Toronto's underground PATH network, connecting to public transit, restaurants, and shops. BMO hopes the location will meet the changing demands of an increasingly mobile workforce and better serve the bank's customers.
"This urban campus is central to the business transformation underway at BMO," said Darryl White, company CEO. "We are unified in our focus on the customer and now we are accelerating."
"Cadillac Fairview is excited about the opportunity to collaborate with BMO to envision and design this exciting re-imagining of work space," added John Sullivan, CF's CEO. "With CF Toronto Eaton Centre as its home, BMO's urban campus will stand out as a vibrant environment to stimulate bold ideas, foster new ways of working, and ultimately attract the best talent."
The project is slated to open in 2021.
To read more, click here.