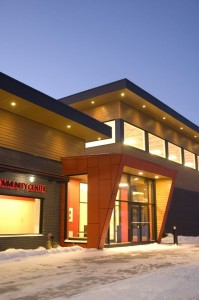 Winnipeg firm Prairie Architects has been honoured at the Manitoba Excellence in Sustainability Awards.
The accolade, "Action on Climate Change, Air Quality, and Energy Efficiency," recognizes work in sustainable design, reduced energy consumption, and improved indoor air quality (IAQ). The firm was selected for its green building strategies by the Manitoba Round Table for Sustainable Development.
"These awards are an important mechanism for change as they bring deserved recognition to champions of sustainability and inspire us all to take action," explained Gord Mackintosh, the province's conservation and water stewardship minister. "We need to honour these individuals and groups, and the projects that have turned the province's principles and guidelines of sustainable development into concrete and lasting achievements."
Prairie Architects' projects include Kelly House, Manitoba Hydro Place, and Mountain Equipment Co-op retail facilities. For its work, the firm says it balances three aspects of sustainable design:
• minimal impact on ecosystem;
• energy efficiency (reducing use of non-renewable resources); and
• healthy indoor environment.